Medvedev not so angry with Angry Birds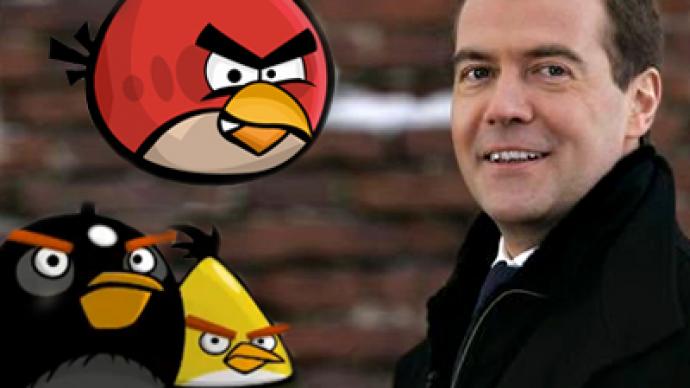 "Angry Birds" has become quite an absorbing pastime for Russian officials, according to President Medvedev who made a surprise appearance at an IT session of the International Economic Forum in St. Petersburg.
President Dmitry Medvedev, appearing out of the blue into the middle of an IT conference, chose to thank Peter Vesterbaka for the video game "Angry Birds", which he and his company developed."Before I say anything political, I would like to thank Mr Vesterbaka for creating an occupation for a huge number of officials who now know what to do with their leisure time – and during business hours. I have continually seen it. It's ok, by the way," said Medvedev jokingly. "I do not remember how many "Angry Birds" products have been released, but they will most probably continue appearing frequently. I wish as much success to Vesterbaka's counterparts, especially in the Russian segment, which has recently been showing brilliant progress," he added.The session of the Economic Forum, which concluded on Saturday in Russia, was called "Internet economics: Russia and the world." Talking of internet development, Medvedev acknowledged that the internet has grown to become a huge political factor. "Those who ignore it understand nothing in modern life," he said.The "Angry Birds" game has been downloaded over 200 million times since December 2009, bringing Peter Vesterbaka and his company Rovio some 56 million euros. With start-up investment as low as 100,000 euros, it makes the game the most profitable one in the history of mobile platforms.