North Africa crisis in 'Three Little Pigs vs Angry Birds' wrap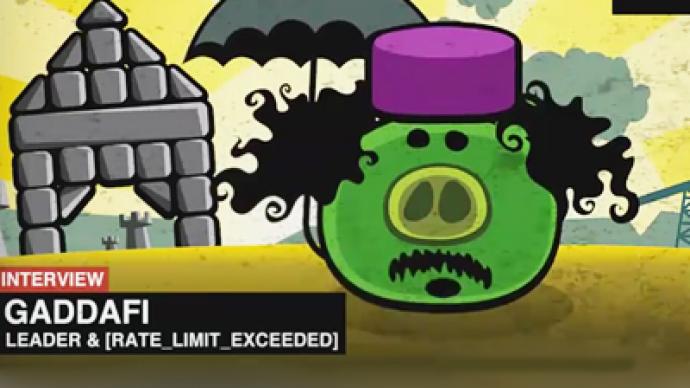 The fairytale of the three little pigs is enjoying a comeback, turned into a cartoon by a Russian illustrator. The animation, which has gathered almost a million views on YouTube in less than a week, satirizes the unrest across North Africa.
"Three big pigs," a cartoon parody starring pigs, birds and RT, can possibly be called the best and shortest explanation summarizing the uprisings in Tunisia, Egypt and Libya.The cartoon was created by Russian Egor Zhgun, a 26-year-old illustrator, motivated by technology and politics. Zhgun is already well known by Russians, having submitted "Zoich the HypnoToad" " into the contest for the mascot of the 2014 Winter Olympic Games in Sochi."I wanted to do a flash game, a parody on the Angry Birds. I just looked at Angry Birds, one of my favorite games, and the Twitter logo, and I thought they are the same. And the thing going on in the Middle East is a Twitter revolution. And I thought it's fun to mash up those things," said Zhgun.In this Three Little Pigs remake, Libyan strongman Muammar Gaddafi and the ousted leaders of Tunisia and Egypt take the form of green pigs hiding in houses.Angry Bird protesters smash Tunisia's Zine El Abidine Ben Ali and Egypt's Hosni Mubarak, but with Libya, the so-called freedom fighters achieve victory with the support of an American Eagle wearing a French hat.In less than five days, this viral clip has created global buzz and garnered nearly 1 million hits on YouTube. Zhgun says he will likely make a second video and has already been approached about turning his cartoon into a game.Colorful metaphors and imagery illustrate the story of revolutions, as the world waits to see how the real end game will play out.
You can share this story on social media: