Malkin makes NHL history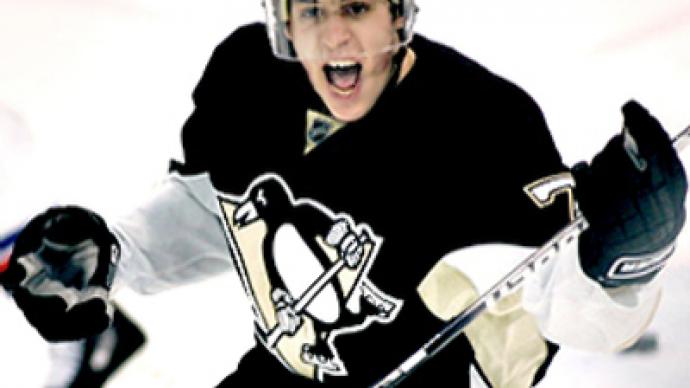 After his third season in the NHL, Evgeny Malkin has finally reached the ultimate individual goal by winning the Art Ross Trophy.
One of the all-time great Russians, who is just 22-years-old, secured the NHL's regular-season scoring title with a goal in the Pittsburgh Penguins' 3-1 season-ending victory over the Montreal Canadiens on Saturday.
Malkin's 35th goal of the season gave him 113 points, leaving him three points ahead of fellow Russian Alexander Ovechkin of the Washington Capitals, who finished second with 110 points.
Malkin did justice to his Russian national team partner after the game. "Alex is a good player, and in the last five games he played awesome," Malkin said.
"It's my third year playing in the NHL, and I understand how to play here," a beaming Malkin also noted. "My English is a little bit better and my game is better too."
But despite his Art Ross success, Malkin realizes it may be difficult for him to wrench the Hart Trophy as league MVP from the hands of last year's winner Ovechkin, who once again proved he knows how to put the puck in the net better than anyone else in the league, finishing the regular season with amazing 56 goals.
Elsewhere in the league, Evgeny Nabokov's San Jose Sharks have become the regular season champions for the first time in franchise history.
You can share this story on social media: