Penguins ice the Capitals to reach Conference Finals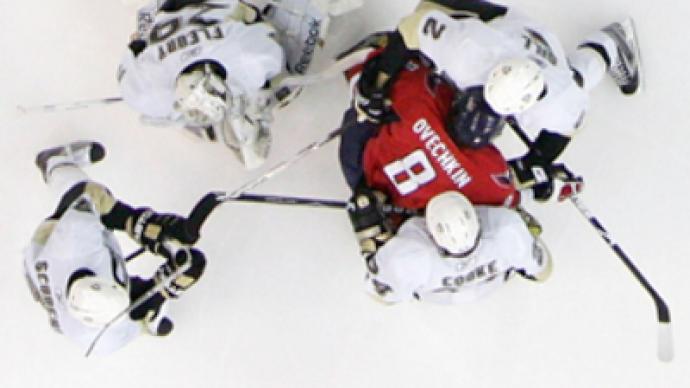 Canadian ice hockey fans had some consolation on Wednesday night after their enfant cheri Sidney Crosby and his Pittsburgh Penguins dumped Alexander Ovechkin's Washington out of the Stanley Cup.
But the decisive game seven at Verizon Center didn't live up to expectations. Despite being probably the most publicized clash in NHL history, the game turned out to be one-way traffic with Pittsburgh winning 6-2
Sidney Crosby scored two goals and made one assist while Craig Adams, Bill Guerin, Kris Letang and Jordan Staal also found the net for the fourth-ranked Penguins.

Falling behind 4-0 in the second period the Washington Capitals replaced rookie goaltender Simeon Varlamov with veteran Jose Theodore, but that couldn't change much.

Alexander Ovechkin and Brooks Laich replied for the second-seeded Capitals, but that wasn't enough to cheer up their fans at the noisiest arena in the USA, as the Washington Capitals were swept away 6-2.

"They just scored everything," a pumped-up Alexander Ovechkin told NHL.com after the game. "They had chances to score and they scored. That's it."
"Especially in a Game 7, it's so hard when you're so close," Alexander the Gr8 said, before adding: "I tell you, if we had scored one goal, if I had scored one goal, maybe it's going to be a different game. They used their chances, but we didn't, especially me. The first two shots, in my position, I had to score."

After the game, at center ice, Ovechkin said a few words to his rival the Pens' captain Sidney Crosby.
"I just wished him good luck and told him to win the Stanley Cup," Ovechkin told NHL.com. "You always wish good luck when you lose to a great team. It's hockey. Sometimes you win and sometimes you lose. Right now, they win."

So, Pittsburgh clinched the best-of-seven series 4-3 to burst into the Eastern Conference final, and will face either the Boston Bruins or the Carolina Hurricanes.
The Penguins have won all three seventh and deciding games between the teams, the previous victories coming in 1992 and 1995.
You can share this story on social media: