Friend, not Foe: 'Dumping' China urges EU to drop punitive import tariff
Published time: 27 May, 2013 19:08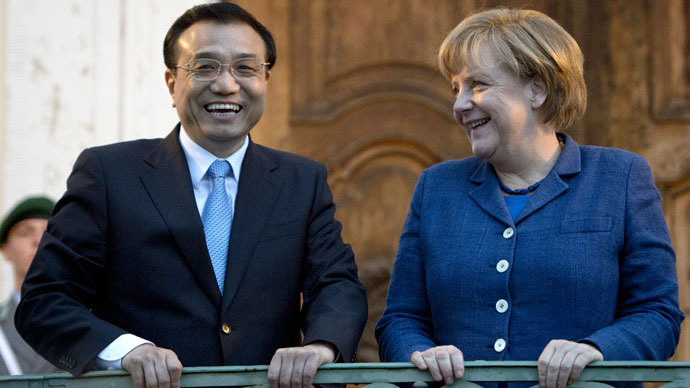 China is trying to stave off a trade war with the EU that could cost both sides billions, as premier Li Keqiang dashes between European capitals persuading leaders not to vote for a punitive tariff on Chinese imports.
On June 5, European Union member states will cast ballots on whether to impose a massive 47 percent tariff on solar panels on its second-largest trading partner, in what appears to be an undecided vote.
As he made his first foreign trip since being appointed in March, Li Keqiang dismissed the proposed sanctions as "protectionism" and warned the EU that they "will hurt Chinese industries, business and jobs and also damage the vital interests of European users and consumers."
Less than ten years ago China controlled about 10 percent of the world solar panel market, now it has more than 50 percent, with most of its exports going to the EU, which has some of the world's greenest policies. Supplies to the EU brought Chinese companies more than €21 billion last year.
But a wide-ranging fifteen-month EU investigation, which is due to present its final results at the end of this year, has already concluded that Chinese authorities are subsidizing their companies so they can undercut European competitors and eventually force them out, by 'dumping' cheaper panels onto the European market.
EU Trade Commissioner Karel De Gucht has said that the Chinese government provides these subsidies through cheap land and energy, and huge loans given to industrial leaders at below-market rates, creating "a distorted playing field".
"At this stage, any potential temporary measures are an emergency response to rebalance the market place for European companies facing life-threatening dumping and unfair competition from China's solar panel industry," said de Gucht.
The vote next Wednesday would only put the tariffs in place until December, but if China does not comply with EU demands, it could then be made permanent for up to five years.
But despite censure from official Brussels, Li has managed to get the backing of a powerful supporter – Angela Merkel.
"Germany will get involved and engage in negotiations to ensure that we don't come to a point where there are permanent levies," promised the German Chancellor.
"There is no need for more sanction measures," said an even more emphatic Economy Minister Philipp Roesler, once talks with Li had concluded.
While Germany initially supported the tariffs, and appeared to be isolated when it made a volte face, by Monday evening news agency Reuters said that 15 of the 27 EU member states would vote against the tariffs. Only six countries are definitely in favor, though the situation appears fluid.
A Chinese delegation held "informal" talks with EU officials in Brussels on Monday evening to try to take advantage of the changing tide.
Italy and France are leading the faction of those remain firmly against letting China off, as solar panel makers around the world continue to go bankrupt, engulfed by the torrent of Asian supplies.
"We want to see a balanced relationship between China and the European Union. Countries that use protectionism, and China is one of them, should accept reciprocal rules," said French Industry Minister Arnaud Montebourg.
"The Commission was presented with prima facie evidence that dumping occurred. They can't just ignore that," Stuart Newman, a legal advisor to the Foreign Trade Association, told Reuters.
But China is unlikely to watch impassively.
While it can appeal to the WTO over the tariffs, instead it has already unleashed a series of what can be seen as tit-for-tat anti-dumping investigations. Beijing has announced that it is investigating European chemicals companies for the practice, a fortnight after it said that makers of unwelded pipes from the region were also selling their goods below price.
On the other hand, the EU says that Chinese telecommunications makers – whose share has also risen rapidly - could be the next to be investigated for dumping.
The escalation of the conflict over what is a relatively paltry if growing industry could be disastrous for both regions. Last year total trade between the EU and China amounted to €434 billion.