Lebanese pilgrims kidnapped in Syria: The untold story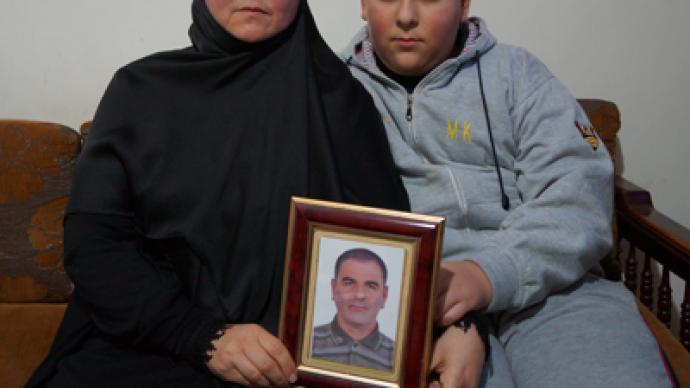 A group of Syrian rebels have been holding Lebanese civilians hostage for nearly seven months. The kidnappers keep issuing new demands, claiming they have captured "subversives from the Lebanese Hezbollah party."
The hostages' relatives deny the charges, saying those captured are elderly and poor, have families and are generally apolitical. They also expressed frustration at how Western mass-media has only aired the kidnappers' side of the story.During this seven-month period, the hostages were allegedly 'killed by Assad's bombs,' but then miraculously 'rose from the dead.' The conditions of their release have been continually changing: First, the kidnappers turned down a $50 million ransom; they then demanded the families demonstrate against Hezbollah, and asked Hezbollah chief Sayyid Hassan Nasrallah to apologize to the Syrian people; finally, they suggested bartering their hostages for an Al-Qaeda leader.But at the heart of this cloak-and-dagger saga are clues to how the Syrian captors managed to demand a ransom of $50 million after proclaiming Ankhar Kochneva, a Ukrainian-Russian journalist of Palestinian descent, to be a spy for three different countries simultaneously.A bargain bus tour hijackedOn May 22, 2012, a group of Lebanese pilgrims on a bus were returning to Beirut from Mashhad, a city in northeastern Iran. Syria was relatively peaceful at the time. Some of the passengers were accompanied by their wives and daughters; one young man was chaperoning his elderly aunt.In Aleppo province, their bus was stopped by a group of Syrian rebels who then abducted the passengers, claiming they were Hezbollah subversives who had illegally crossed the Syrian border.
The following passengers of the bus remain in captivity:Ali Skheb, 63: Physically impaired, suffers from heart failure. Jamil Saleh, 65: Spent the last 30 years working for Saad Hariri, known to be a major supporter of the Syrian rebels. Suffers from epilepsy and is prone to fainting fits. Recently underwent surgery for a spinal disc herniation. Ali Abbas, 30: Owner of a hookah shop, who supports both himself and his younger brother. The brothers are parentless as well as homeless, and use their shop as living quarters. Ali suffers from epilepsy. Hassan Arzune, 56: A street vendor who peddles sweets for Ramadan and owns a shop with a floor area of 1.5 sq. meters. Hassan Hammud, 45: Painter and floor waxer, the proud owner of an antique stone-floor polisher that consists of an iron frame and a water tank. The kidnappers believe Hassan to be a specially trained sabotage and demolitions expert. Muhammad Monzer, 22: Gas station attendant who borrowed money for the trip in order to accompany an elderly aunt, who dreamed of taking a pilgrimage. Abbas Shuyab, 41: Pilgrimage broker who organizes bus tours to Iraq and Iran. Abbas Hammod, 60: Retired Lebanese Army soldier, suffers from neurological disorders.Ali Termos, 50: Works as a salesman in a small grocery shop.It is possible the Syrian opposition is unable to distinguish either insurgents or rank-and-file Hezbollah party activists just from their outward appearances. However, few in Lebanon believes that the hostages are members of Hezbollah.
Generous, pious kidnappersThe kidnappers did their best to comply with the rules of Islam: They immediately released all the women – including wives, daughters and the aunt – and allowed those abducted to pray and fast freely.The captors went as far as agreeing to a meeting between the hostages and two of their family members, who were allowed to make a video on how well the kidnappers were treating the abductees. In the footage, they were shown to be wearing casual clothes and sitting on sofas in broad daylight. They even released two hostages who appeared to be in bad health. During the first month they ate canned tuna, boiled eggs on the second and chickpeas on the third. Later, their diet slightly improved.The remaining captives are now confined a room with no windows.The $50 million enigmaTowards the end of Ramadan, online sources reported that Oqab Saqr, a Lebanese MP from the Hariri bloc, had allegedly received $50 million from Saudi Arabia to pay as ransom for the hostages. Mona Termos, the wife of one of the prisoners, went to the Saudi embassy to find out if the rumors were true."On that very day Abbas Nasr, an Al Jazeera correspondent, called me only to yell that I was to blame for disrupting a mission to release the prisoners," Termos said. "Later, he came and said that I must go live on air to disprove that news. But I said it is up to the ambassador to do it."Three days later, the events took a new turn: "We were told that the location had been bombed, leaving four people dead, including my husband! Then the Lebanese Foreign Ministry started an inquiry, and the families took to the streets – and that's when that information was refuted. Did they rise from the dead?" she said.And two days after that, the kidnappers' leader Abu Ibrahim confirmed to NewTV channel that he had been offered the $50 million. "Yes, they did offer $50 million but I refused to take it. It is a matter of principle rather than money," NewTV quoted him as saying
Freedom of speech for kidnappersIbrahim now communicates regularly with the media, which interviews him through Skype and the telephone, and even dispatches film crews from New York to record his statements.Ibrahim's first demand was for the release of the Lebanese hostages in exchange for Hussein Harmoush, an army defector and one of the founders of the rebel Free Syrian Army. He then demanded that Hezbollah chief Nasrallah apologize to the Syrian people and publicly support the rebels. Currently, there is no evidence suggesting that the pilgrims are connected to Hezbollah.Ibrahim then called on the families to rally against Hezbollah in front of Beirut's Syrian and Iranian embassies. The families fulfilled the demand, rallying at the embassies and writing letters to ambassadors. The Iranian embassy's workers told them that 48 Iranian pilgrims were being held in a similar situation: They were abducted by Syrian rebels under the pretext that they were members of the Islamic Revolutionary Guards corps.Nasrallah then addressed Lebanon, expressing support for the Syrian people and asking them to demonstrate what shape that support should take.Hiding near Turkey?Those kidnapped are occasionally allowed to call their families with a cell phone that has a Turkish number. Those who were freed from captivity and their visitors claim that the building where hostages are held is within sight of the Turkish border."The Turkish authorities could've easily found them. But they insist that they've no idea there the hostages are held. How do journalists find them then? They all get there across the Turkish border," the relatives said.A week ago, Ibrahim made a new demand to the relatives, asking them to rally to free both Hussein Harmoush and Syrian opposition member Tal al-Mallohi.The families of the hostages expressed frustration at Ibrahim's apparent hypocrisy in his attempts to free political prisoners. "Nobody should be imprisoned for his or her views, the more so women. Abu Ibrahim, you are committing the same deeds you say yourself you are against! How can I trust the Syrian revolution if you deprive innocent people of their freedom?" the pilgrims' wives said. Western media have yet to report on their remarks. NYT journalists traveled to Syria to investigate the hostage-taking and managed to make their way to Ibrahim, but did not contact the captives' wives and daughters in Beirut. One of the journalists did eventually call the family of the hostages – not to interview them, but to inform them about a video published on the newspaper's website containing new conditions for the hostages' release. The relatives were told that the captors are now demanding that 200 political prisoners, including an Al-Qaeda leader from Jordan, be released from Lebanon's prisons."Through a US newspaper they are demanding a release of an Al-Qaeda leader? And to release political prisoners in the Lebanon? But there are none in Lebanon!" the hostages' family members said. "We are free to say whatever we want, and nobody will pay any attention to that. There are criminals, drug dealers, but no political prisoners. Everybody knows that."Abu Ibrahim has promised to clarify the demands, and to fax the names of the two prisoners that will be transferred to Lebanese authorities.That message has yet to arrive.
Nadezhda Kevorkova, RT
You can share this story on social media: