Pilgrims or mercenaries? Iran asks Turkey, Qatar for help freeing captured nationals in Syria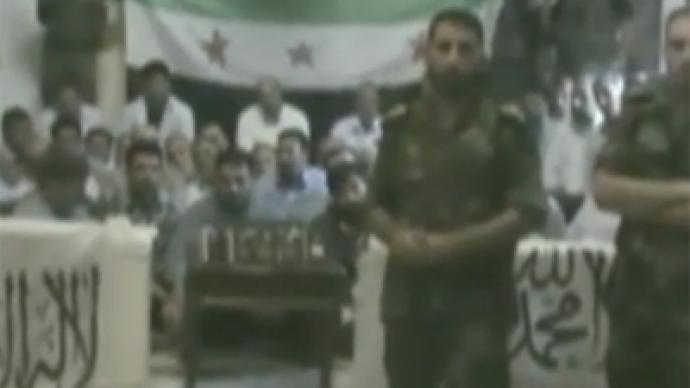 Tehran has asked Turkey and Qatar to help secure the release of Iranian nationals kidnapped in the Syrian capital Damascus on Saturday. The Free Syrian Army claimed the Iranians were members of the elite Iranian Revolutionary Guard.
The pilgrims were traveling from Damascus to the Sayeda Zeinab mosque, a holy shrine for Shia Muslims located in a southern suburb, Iran's state-owned al-Alam TV station said."Terrorists affiliated to the so-called Free Army are in charge of the abduction of the Iranian pilgrims," a Syrian government official told Fars. Iran says the Free Syrian Army is responsible for the kidnapping.The Qatari and Turkish foreign ministers promised to do their best to bring about the liberation of the forty-eight Iranian pilgrims, according to Press TV.Reports from the Lubnan al-Ain news agency say those responsible for the kidnappings were actually part of the Sunni extremist organization "Djunallah" ("Soldiers of Allah"), and that the Free Syrian Army were only indirectly involved with the abduction.  Dueling accounts allege kidnapped were innocent pilgrims, elite snipersSyrian rebels alleged that the Iranians are members of the elite Iranian Revolutionary Guards military force, according to exclusive footage aired by Al Arabiya TV.The rebels "captured 48 of the Shabiha [militiamen] of Iran who were on a reconnaissance mission in Damascus," said a man dressed as an officer of the Free Syrian Army."During the investigation, we found that some of them were officers of the Revolutionary Guards," he said. The man then displayed ID documents allegedly taken from one of the prisoners, who appeared in the video's background with a large Syrian independence flag held by two armed men behind them."They are 48, in addition to an Afghani interpreter," said Abdel Nasser Shmeir, commander of the Al-Baraa Brigade.Shmeir claimed that the captives were members of a 150-strong group sent by Iran for "reconnaissance on the ground."
Before reports of the capture emerged, Iranian Minister of Defense Ahmad Vahidi said that Tehran had not sent any military forces to Syria, and that the Syrian regime had never asked it to do so, according to news blog Enduring America.Vahidi was responding to Israeli media claims that more than 3,000 Iranian snipers had arrived in Damascus to aid President Assad's forces. Regional observers interpreted the kidnapping as a deliberate provocation, following news that Saudi King Abdullah bin Abdulaziz al Saud formally invited Iranian President Mahmoud Ahmadinejiad to an urgent Islamic summit, Russian news agency Itar-Tass reported from Beirut.The forum will take place in Mecca later in August, and will be dedicated to pan-Islamic cooperation and resolving the Syrian conflict.
You can share this story on social media: