Latvia introduces criminal charges against denial of Soviet and Nazi occupation
Published time: 28 Mar, 2014 15:42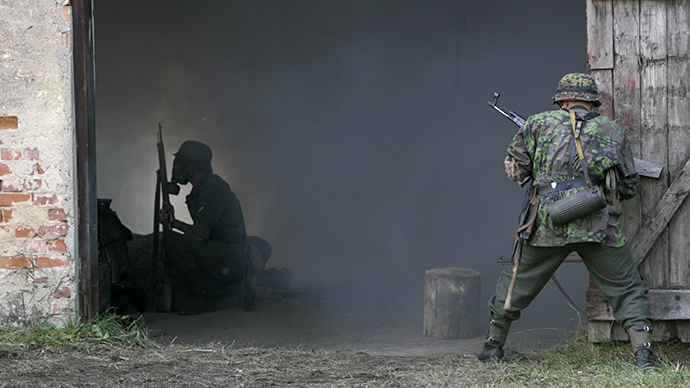 Anyone who denies or questions whether the Soviet Union performed an act of historical aggression against Latvia may face up to three years in prison, according to a bill considered by the Latvian parliament Thursday.
The parliament equated the Soviet presence and Nazi occupation in the second reading of an amendment to the law.
Any glorification, white-washing or doubting the invasion by the Soviet Union and Nazi Germany will be prosecuted, the parliament's website said in a statement.
54 MPs voted for introducing the amendment, while 27 were against.
The amendments, introduced by former Justice Minister Janis Bordans, were approved in a first reading by the parliament's legal commission Feb. 12.
Russian authorities strongly criticized the amendments. According to the Russian Foreign Ministry's commissioner for human rights, Konstantin Dolgov, "the Latvian [parliament's] decision to criminalize denial of the 'Nazi and Soviet occupation' continues the efforts to glorify Nazism as part of state policy and violates international law."
The bill requires a third reading and presidential approval to become law.
Another law which was introduced by the Latvian authorities in May 2013 banned people from exhibiting either Soviet or Nazi symbols in public. The law attracted controversy, particularly among the country's ethnic Russian minority, which constitutes more than one-quarter of the population.
Soviet-era symbols, such as Red Army uniforms and crimson flags, have been a staple of the celebrations, even after the secession of Latvia from the USSR. Russian journalist Andrey Khramtsov even faced charges of inciting mass public disorder after asking Riga residents if they intended to break a controversial new law.
Meanwhile, the country does not celebrate May 9 as the day the Soviet Union defeated Nazi Germany. However, Latvia has not yet banned the annual parade of Waffen-SS veterans and their supporters, commemorating Nazi collaborators during World War II, in Riga, which took place March 16, 2014.
The Baltic states of Lithuania, Estonia and Latvia have been trying to diminish the Soviet role in the defeat of Nazi Germany. Many countries' residents equal Nazi to Soviets, saying that the local population suffered a lot from the Soviet secret service in the Stalin era.
Latvia says it was occupied by the Soviet Union from 1940 up to 1991, when it gained independence after the collapse of the Soviet Union. However, Russia, the successor state of the USSR, doesn't recognize the invasion of Latvia by the Soviets.
During the Nazi occupation in Latvia from 1941 to 1945, the country lost at least 70,000 Latvian Jews which was nearly 89.5 percent of the Jewish population who resided in the country before the war.
In 1944, the Red Army liberated the Baltic States, including Latvia, from the Nazi invasion. Of all the countries, the USSR suffered highest number of losses in WWII. At least 13 million Soviet soldiers died while protecting the Soviet people and citizens of other countries from the Nazi invasion.