Latvian authorities 'try to silence' journalist with criminal charges over controversial law report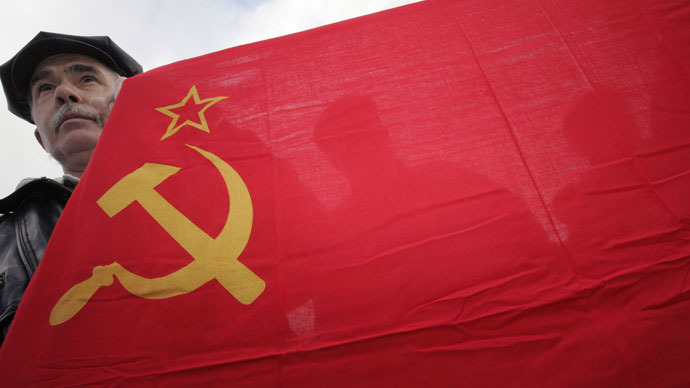 A Latvian news reporter faces charges of inciting mass public disorder, after asking Riga residents if they intended to break a controversial new law. Andrey Khramtsov says officials are pursuing a 'vendetta' against him and other 'disloyal' journalists.
Russian-speaking freelancer Khramtsov was commissioned by a St. Petersburg channel to produce a report on a new law passing through the Latvian parliament that bans people from exhibiting either Soviet or Nazi symbols in public.
The law, which parliament initially tried to rush through ahead of 9 May commemorations (the day when Germany surrendered to the USSR at the end of World War II) has attracted controversy, particularly among the ethnic Russian minority, which constitutes more than a quarter of the population. Soviet-era symbols, such as Red Army uniforms and crimson flags, have been a staple of the celebrations, even after the secession of Latvia from the USSR.
The date is highly politicized in the country, with the authorities refusing to celebrate it as Victory Day, since independent Latvia was invaded by the USSR in 1940, then by Nazi Germany the following year, before reverting to Soviet control at the end of the war.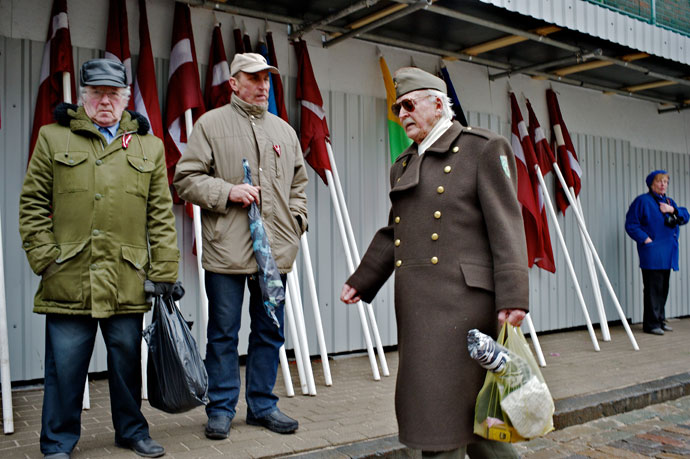 Khramtsov told RT that he arranged to meet several ethnic Russian Communist sympathizers in a town square on May 7, to discuss whether they would obey the law once it is passed. The small group of men arrived with Soviet flags, but Khramtsov says they refused to be filmed, afraid of future police prosecution. After an informal discussion, Khramtsov claims the group dispersed peacefully.
The following day Khramtsov was called up to a police station, where he was charged with organizing mass disorder and staging a provocation, with a video of the previous day's meeting, filmed from a nearby police car, cited as evidence.
Khramtsov says he was not encouraging the men to break the law, but merely doing his job. It is also notable that the law went through its second reading on May 16, and faces one more, before it comes into force, making it difficult to ascertain what Khramtsov's exact misdemeanor might have been
"What has happened gives me a horrible feeling. I don't know if it is someone just trying to earn a promotion at my expense, or if, more unfortunately, authorities in what is supposedly a free country and an EU member are trying to silence the media," the journalist told RT in a phone interview.
Anda Rozuklane, the chief of the Latvian Journalists Association has spoken out in defense of Khramtsov.
"If there is evidence that the journalist was doing anything other than compiling a story, it should be made public, but it does not seem to exist. We think this is a disproportionate action, intended to intimidate Khramtsov," she told Russia's Interfax news agency.
Khramtsov has been a persistent thorn in the side of the authorities in recent times.
Three years ago he filmed an expose, showing how easy it would be for terrorists to target Riga's landmarks. His report showed him making a bomb from easily obtained ingredients, before smuggling a mockup of an explosive device into public spaces. He won a local award "for contributing to press freedom", but authorities charged him with keeping and transporting explosives.
The case was thrown out of court earlier this year.
"I think the police are angry with me for that last incident – and are trying to exact their revenge"
Khramtsov says subtle pressure and discouragement are commonplace weapons against all journalists whose views diverge from those of dominant politicians, and particularly those who challenge the nationalist anti-Soviet narrative adopted in Latvia since independence in 1991.
"I think this constitutes bullying by the authorities. They have no evidence against me, but they are wasting my time, even though the case will never get to court."
In the most recent World Press Freedom Index, compiled by Reporters without Borders Latvia was ranked 39th, below the other Baltic states, but ahead of the other former Soviet republics. It was ranked as high as 13th in previous years, but a string of high-profile incidents have dented Latvia's reputation.
You can share this story on social media: