Latvia bans referendum on Russian speakers' citizenship
Published time: 2 Nov, 2012 09:31
Edited time: 2 Nov, 2012 13:31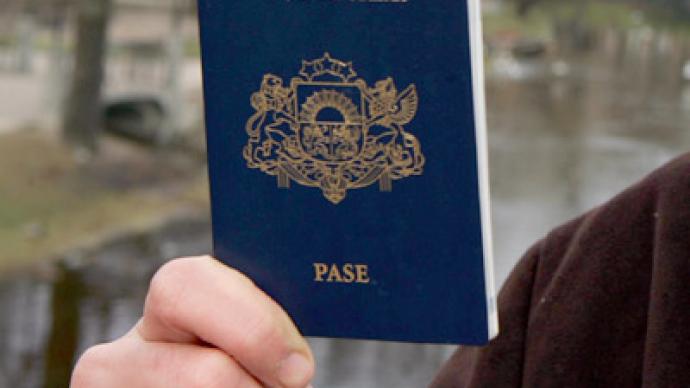 The Latvian authorities have banned a referendum on automatic citizenship to the country's 300,000 non-citizens citing international law and security reasons.
Non-citizens are the holders of special passports in Latvia who, according to this country's laws, used to be the citizens of former USSR but currently hold the citizenship of neither Latvia nor any other country. The majority of non-citizens are Russian speakers who make up about 15 percent of Latvia's population.
The passport holder is allowed to reside in Latvian territory, but gives them no political rights, such as voting or holding official posts.
The bill allowing the automatic granting of citizenship to non-citizens was prepared by the "For Human Rights in United Latvia" party. The activists managed to collect over 12,000 signatures in support of their move and all these signatures were from the country's citizens. The initial move allowed them to hold a second round of signature collecting and if this second round yielded 150,000 signatures or more, the bill could be given official support.
However, the country's Central Elections Commission banned the referendum in a three to two vote with one abstention.
The bill was halted because it contradicted the principle of continuity guaranteed by the Latvian constitution, the secretary of the CEC's panel told Russia's daily Izvestia. Besides, the automatic granting of citizenship to a group of people without their agreement is against international law, Ritvars Eglajs added.
The official also said the move would be discrimination to those who had already received citizenship by filing applications and passing tests. Besides, the mass submission of citizenship applications contradicts the European Union's security standards, Eglajs told the press.
Activists of the For Human Rights in United Latvia party said they would appeal the ban in court and added that they hoped that the Latvian Constitutional Court would intervene in the argument. Besides, the party said they readied an address to the Western media and European Parliament that is already scheduled to consider the issue in late November.
The Latvian authorities, on the other hand, welcomed the decision. The country's Prime Minister Valdis Dombrovskis said that the CEC's decision was apparently based on the Constitution as the primarily task of this body was to check if the new bill matched basic law. He also said that the decision would help to defuse the inter-ethnic tension in the Latvian society.
Russia has repeatedly criticized the Latvian law concerning the non-citizens status. Earlier this month Russian Foreign Minister Sergey Lavrov said the issue was the biggest problem in Russian relations with European countries and called it "the disgrace of the European Union and the disgrace of NATO". The minister again called on Latvia and neighboring Estonia to scrap the non-citizens laws and observed that these nations had ignored the recommendations of the UN, OSCE and CE even though the international blocs always acted as their allies.