N. Korea 'issues ultimatum' to the South, warns of 'immediate retaliation'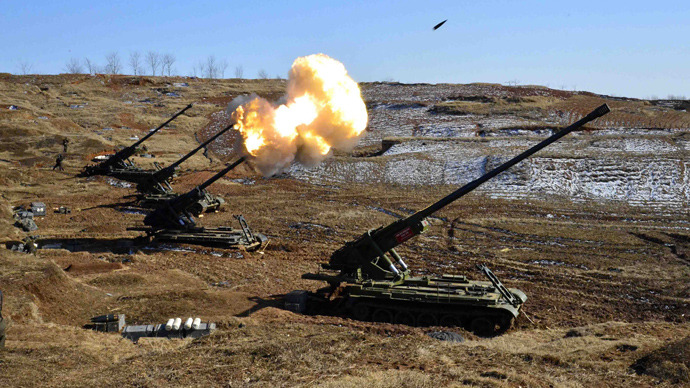 North Korea's military supreme command has issued an ultimatum to South Korea demanding apologies for "all the major and minor hostile actions." It has also threatened an immediate military response to any "insulting" action the South undertakes.
"The supreme command of the Korean People's Army Tuesday issued an ultimatum to the South Korean puppet group," South Korean Yonhap agency cites Pyongyang's official news agency KCNA.
The ultimatum consists of three clauses, RIA reports also citing KCNA, in which the North demands an apology for all the hostile actions in the past and a "practical demonstration" of good intentions from the South, saying it is the condition for starting any sort of discussion or dialogue.
Should the South Korean state undertake any action considered "insulting" to North Korea's "supreme dignity," there would be an "immediate retaliatory action without warning," demonstrating the country's military might, the second clause of the ultimatum says as cited by RIA.
Earlier on Monday there was a brief break in the bellicose rhetoric from the North, as the country celebrated the 'Day of the Sun' – the 101st birthday of the country's founder Kim Il-sung. Not only did the North Korean government refrain from the much-discussed symbolic missile launch, it also decided not to stage a traditional massed military parade to demonstrate the county's power.
However, as the clock struck Tuesday local time, there was a resumption of North Korean war threats, which recently included warning of a "thermonuclear war" for the South, notions of Tokyo "consumed in nuclear flames" for Japan, and ratification of a nuclear strike against the USA. All these threats would be triggered in the event of the "slightest move" of armies or any "provocative intervention" in North Korean manoeuvres and affairs, the KCNA news agency has warned.
North Korea has also repeatedly blamed its neighbors, but ultimately the USA for the escalating tension, and explained the recent proposal to all foreign embassies to evacuate by "the increasing threat from the United States."
In the meantime, Washington has indeed been increasing its presence around the Korean Peninsula.
The USS Fitzgerald, which is positioned next to North Korea, is capable of shooting down any missiles launched from the country. The ship was initially supposed to return to base in Japan following recent annual joint drills with the South, according to US defense officials.

The advanced radar-evading F-22 Raptors were redeployed from Kadena Air Base in Okinawa to the Osan Air Base, which is the main American base in South Korea. B-2 bombers also flew in the vicinity of the North Korean border.

Russia, though calling Pyongyang's "provocative and bellicose" behavior "unacceptable," has still been stressing that only a political and diplomatic settlement of the escalating crisis is possible.
"No one should intimidate anyone with any military manoeuvres," Russian Foreign Minister Lavrov said on the sidelines of the recent G8 summit.
You can share this story on social media: