Pyongyang warns foreigners to evacuate S. Korea, threatens 'thermonuclear' war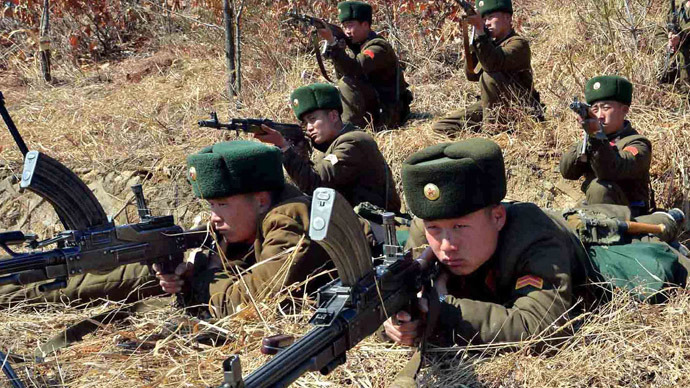 Pyongyang has issued a warning urging foreign nationals to evacuate South Korea, the Korean Central News Agency (KCNA) reported. The statement was followed by threats from North Korea of "thermonuclear" war on the Korean Peninsula.
North Korea has warned all foreign nationals to prepare to evacuate the South in the event of conflict. "We do not wish harm on foreigners in South Korea should there be a war," Reuters quoted KCNA news agency as saying, citing the spokesperson for its Korea Asia-Pacific Peace Committee.
The warning was read out on North Korea's state television: "all international organizations, businesses and tourists" were told to "work out measures for the evacuation".
The statement was followed by renewed threats of "thermonuclear" war on the Korean Peninsula, AFP reported.
"The situation on the Korean Peninsula is inching close to a thermonuclear war," Pyongyang's Asia-Pacific Peace Committee stated.
No evacuation in sight
UN Secretary General Ban Ki-moon urged N. Korea to refrain from "provocative rhetoric" and encouraged other countries to exercise their influence over Pyongyang.
"The current level of tension is very dangerous. A small incident caused by miscalculation or misjudgment may create an uncontrollable situation," Reuters quoted Ban Ki-moon as saying. 
The Russian Embassy in South Korea said that it has no plans to evacuate Russians from the country over Pyongyang's warning.
"At this point we are working out our position on the issue. But our preliminary response has no signs of plans related to evacuation," RIA Novosti quoted Russian diplomatic spokesperson Nikita Kharin as saying.
N. Korea issued another warning last week advising embassies there to consider evacuating in the event of war. Currently, about two dozen countries have embassies in North Korea; most have said there are no immediate plans to withdraw personnel.
Despite the heavy rhetoric, the atmosphere in S. Korea remained calm with embassies, airlines, international offices and schools with foreign nationals operating normally, Reuters reported.
China responded by saying that it does not want to see chaos in the Korean Peninsula and opposes further escalation, Reuters quoted Chinese Foreign Ministry spokesperson Hong Lei as saying.
South Korean President Park Geun-hye said that she was resolved to break North Korea's "vicious cycle" of having their bad behavior rewarded with economic aid.
"How long are we going to repeat this vicious cycle where the North Koreans create tensions and we give them compromises and aid?" she said during a Cabinet meeting on Tuesday. "North Korea must stop its wrong behavior and make a right choice for the future of the Korean nation."
The aggressive rhetoric from North Korea has motivated neighboring Japan to deploy Patriot missiles batteries to protect the 36 million people who live in the Tokyo metropolitan area. Two Patriot Advanced Capability-3 (PAC-3) surface-to-air missile launchers have been stationed in the Japanese capital, reinforcing battery units on Okinawa and other Pacific islands, an official said Tuesday.
The weapons were authorized to shoot down any North Korean missile headed towards Japanese territory, Defense Minister Onodera Itsunori said on national television.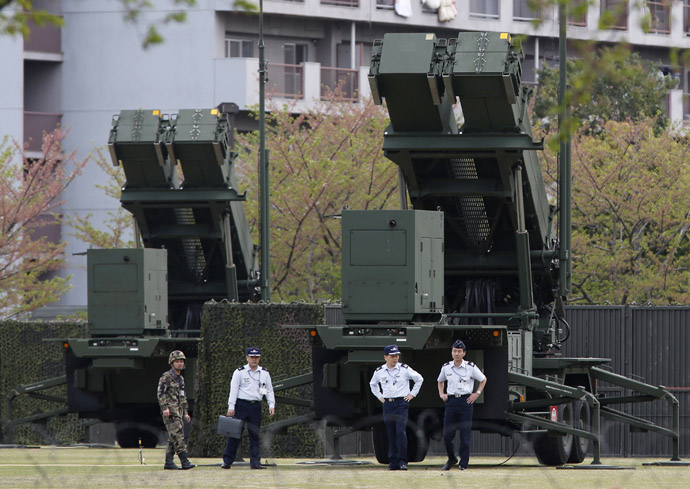 On Monday South Korea said that  nuclear support from Washington is needed to protect against North Korea's continued aggression and unpredictability, and to keep its neighbor in check. Rep. Chung Moon-joon suggested that South Korea needs nuclear weapons of its own – not just to intimidate Pyongyang, but also to send a strong message to China.
The situation was worsened on Tuesday when North Korean laborers did not show up for work at the Kaesong joint industrial zone in the morning, effectively suspending operations. Earlier, Pyongyang refused to allow South Korean workers to enter the area, located a few kilometers inside the North's territory.
You can share this story on social media: