Music industry turns up volume on Kim Dotcom with new copyright lawsuit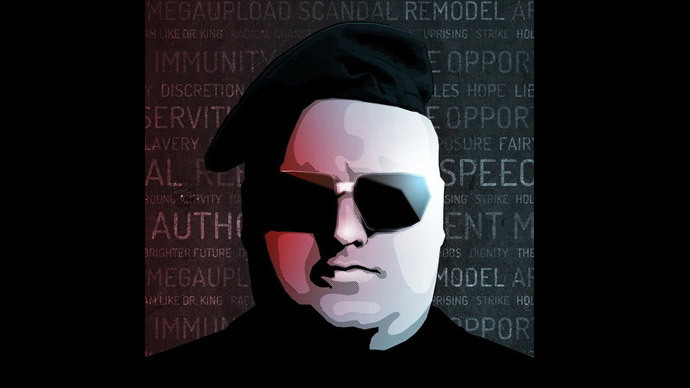 Fresh on the heels of a lawsuit brought against Kim Dotcom by the MPAA film industry lobby, the Megaupload founder is now being sued by the music industry in an action his lawyers are calling "meritless."
Despite being forced to shut down in January 2012 after Dotcom was hit with copyright infringement charges, Megaupload is now confronting new lawsuits from the powerful music and film industries.

A lawsuit filed on behalf of the Recording Industry Association of America (RIAA) makes copyright accusations against Dotcom, his colleagues Mathias Ortmann and Bram van der Kolk, and investor Vestor Limited.

The lawsuit claims they "willfully engaged in, actively encouraged, and handsomely profited from massive copyright infringement of music" on Megaupload.
The lawsuit follows one filed by the Motion Picture Association of America (MPAA) on Monday.

The lawsuits from both the music and film industry use the same figure from the US Department of Justice's prosecution of Dotcom in January 2012, which alleged that Megaupload had pulled in more than $175 million by trafficking in copyrighted content.

According to the RIAA's filing, Megaupload Limited played an active role in ensuring that it had the most popular content on its servers, that the URL links to those infringing content files were widely disseminated on the Internet, and that the links were advertised and promoted by pirate-linking sites, so that the maximum number of Megaupload users would access the infringing content," claims the RIAA's filing.

"It further exercised active control over the process of providing that content by regulating the volume and speed of transmissions to users who had not yet purchased 'premium' subscriptions."
I should have just invaded a country based on lies, launched a global financial crisis & spied on all of you. Cloud storage was a bad idea.

— Kim Dotcom (@KimDotcom) April 11, 2014

The plaintiff's lawsuit was filed on behalf of music giants Warner Music Group, Universal Music Group, Sony Music Entertainment and Capitol Records. On Monday, the MPAA's lawsuit named Twentieth Century Fox, Disney, Paramount Pictures, Universal, Colombia Pictures and Warner Bros.

The Office of the US Trade Representative (USTR) in 2011 branded Megaupload as a "notorious market" in an official government report, alleging that the site allowed for "the unauthorized distribution of protected content through subscriptions and reward schemes to popular uploaders."

"When Megaupload.com was shut down in 2012 by US law enforcement, it was by all estimates the largest and most active infringing website targeting creative content in the world," said the MPAA's senior executive vice president and global general counsel Steven Fabrizio, in a statement.

Dotcom is presently living in New Zealand where he is fighting extradition to the United States to face criminal charges.
Top @MPAA lawyer on radio: "I would like to see Kim Dotcom go to jail for 40-50 years". No death sentence for cloud storage providers yet?

— Kim Dotcom (@KimDotcom) April 11, 2014


Dotcom's attorney Ira Rothken has choice words for the civil lawsuits. "Our first response is that the RIAA, the MPAA, and the DOJ are like three blind mice following each other in the pursuit of meritless copyright claims," said Rothken, as quoted by Reuters.
Rothken has based the defense of his client on the argument that Megaupload was a legal cloud storage service.

"We believe that the claims against Megaupload are really an assault by Hollywood on cloud storage in general as Megaupload used copyright neutral technology and whatever allegations they can make against Megaupload they can make against YouTube, Dropbox and others," he added.

The MPAA has rejected those claims.

"Megaupload wasn't a cloud storage service at all, it was an unlawful hub for mass distribution," Fabrizio said.

"To be clear, if a user uploaded his term paper to store it, he got nothing – and, in fact, unless he was a paying subscriber, Megaupload would delete the paper if it was not downloaded frequently enough. But if that same user uploaded a stolen full-length film that was repeatedly infringed, he was paid for his efforts," he said.

Meanwhile, amid the legal onslaught against him, Dotcom has jumped into politics, launching the Internet Party, which is a "movement for the freedom of the internet and technology, for privacy and political reform," he told reporters last month.