Kim Dotcom used info on rivals to boost Megaupload – prosecutors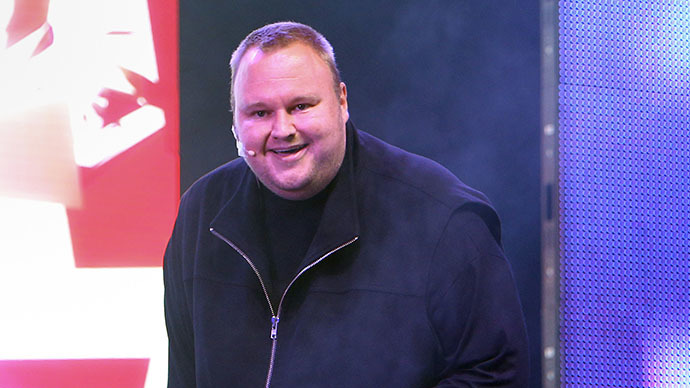 File-sharing mogul Kim Dotcom warned PayPal not to work with his rivals because of their "criminal activity" and admitted in Skype chats he made money from Megaupload users sharing copyrighted songs, US prosecutors claim in documents unveiled Friday.
The US Department of Justice has revealed 191 pages of its case against Dotcom, the owner of Megaupload, a now-defunct "cyberlocker" that allowed users to upload and shares files. Law enforcement and copyright enforcers claim the site, one of the most popular before a high-profile 2012 raid shut it down, was used primarily to illegally access media content protected by copyright.
Dotcom and six of his associates have been charged in connection with the site, an investigation that authorities have deemed "among the largest criminal copyright cases ever brought by the United States."
Dotcom, who is currently in New Zealand fighting extradition to the US, has maintained he is a legitimate businessman and that US President Obama has worked with the Hollywood lobby to orchestrate the charges against him.
Among the documents released on Friday was an October 2011 email from Dotcom to PayPal, sent three months before Megaupload met its demise and just as the company announced it would no longer provide its 66 million users with financial incentives to upload content.
"Our legal team in the US is currently preparing to sue some of your competitors and expose their criminal activity. We like to give you a heads up and advise you not work with sites that are known to pay uploaders for pirated content. They are damaging the image and the existence of the file hosting industry (see what's happening with the Protect IP act)," Dotcom is quoted as saying.
"Look at Fileserve.com, Videobb.com, Filesonic.com, Wupload.com, Uploadstation.com. These sites pay everyone (no matter if the files are pirated or not) and have NO repeat infringer policy. And they are using PAYPAL to pay infringers."
The government used Friday's filing to condemn Dotcom's statements, painting him as a hypocrite looking out only for his own business interests.
"In direct contrast to Dotcom's statement in his email, for over six years as part of the 'Uploader rewards' program, the Mega Conspiracy paid users who had uploaded 'pirated' content, and…the Mega Conspiracy failed to terminate repeat infringers," prosecutors wrote.
Previous reports revealed that Dotcom secretly complied with a US search warrant identifying five Megaupload users who were suspected of running their own file-sharing operations through Megaupload's servers. Dotcom helped the FBI indict five of NinjaVideo.com's administrators by providing a trove of information about their activity and sending information on the 39 copyright violations named in the warrant.
Dotcom's attorney Ira P. Rothken told the Wall Street journal that Dotcom cannot be charged with copyright infringement committed by Megaupload users and once that allegation fades, the rest will fall like "a house of cards."
However Mr. Rothken did not seem to contest the number of messages sent in 2007 among Megaupload's leadership. Programming director Bram van der Kolk allegedly wrote to Mathias Ortmann, the site's chief technical officer, that "Kim really wants to copy YouTube one to one," a reference to directly replicating videos.
"They have no idea that we're making millions in profit every month," he wrote later. "If copyright holders would really know how big our business is they would surely try to do something against it."