​Hollywood movie giants launch copyright lawsuit against Kim Dotcom, Megaupload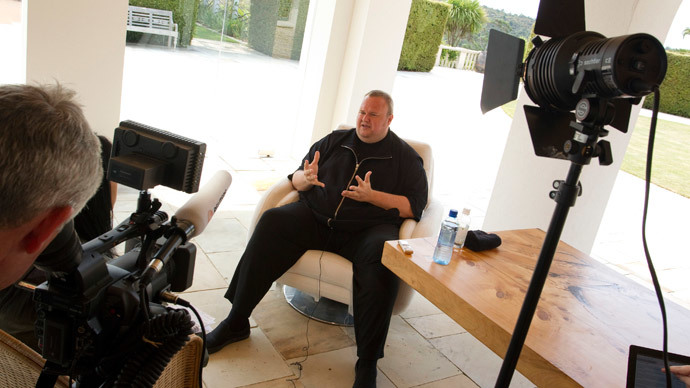 Six major Hollywood studios have issued a huge lawsuit against the internet mogul and alleged cyber-pirate Kim Dotcom, his colleagues and his famous now-defunct file-hosting service Megaupload.com.
Among the film giants filing the lawsuit are 20th Century Fox, Disney, Paramount, Universal, Columbia Pictures and Warner Bros studios.
Dotcom and his colleagues "operated the notorious website Megaupload without authorization or license … and … intentionally infringed copyrighted motion picture and television programs on a massive scale and for a substantial profit," said the complaint, which was filed to the US District Court in Alexandria, Virginia.
According to the complaint, the Megaupload functioned "not as a private online storage locker, but rather as a hub for uploading and downloading copies of movies and TV shows." It says that only 1 percent of its customers, who were premium subscribers, were allowed to use the site for long-term file storage.
The site's illegal activity brought at least $150 million from subscriptions and about $25 million from advertisements to Kim Dotcom and his colleagues, Mathias Ortmann and Bram van der Kolk, the plaintiffs contend.
The lawsuit accuses Megaupload of illegally uploading such movies as Ghostbusters, Alice in Wonderland, Toy Story 3, Forrest Gump, Transformers, Avatar, X-Men: First Class and Back to the Future.
The plaintiffs also argue that Megaupload's "Uploader Rewards" program "openly paid its users money to upload popular unauthorized and unlicensed content, including plaintiffs' copyrighted television shows and movies, onto Megaupload's computer servers."
20th Century Fox, Disney, Warner, Universal, Columbia, Paramount, I'm canceling movie night tonight ;-)

— Kim Dotcom (@KimDotcom) April 8, 2014
Steven Fabrizio, senior executive, vice president and global general counsel of the Motion Picture Association of America (MPAA), said that Megupload "paid users based on how many times the content was downloaded by others and didn't pay at all until that infringing content was downloaded 10,000 times."
Dotcom has said that he and the Megaupload site cannot be responsible for what customers do with the service, and called the accusations by the MPAA "stupid."
"Just like the DOJ criminal case against Megaupload, the MPAA case is a load of nonsense and won't succeed after scrutiny of the facts," Dotcom wrote on his Twitter account.
Dotcom's US attorney Ira Rothken said that the lawsuit was a way for the country's film industry to go after Megaupload if the US "if the Department of Justice fails in the extradition and the criminal case" against Dotcom scheduled for July.
"The MPAA is suddenly realizing that we're a few months away from the extradition hearing, and once Kim Dotcom and the others prevail in the extradition hearing they'll have more resources and more assets," Rothken told Reuters.
Kim Dotcom, born in Germany as Kim Schmitz, is a resident of both Hong Kong and New Zealand, and a dual citizen of Finland and Germany. He made a fortune through his file-sharing website Megaupload, where until August 2011 he was CEO.
Dotcom's legal troubles over Megaupload started in January 2012 after the US issued an indictment against Dotcom for charges of copyright and racketeering in connection with his "notorious" site.
After complaints from the FBI, the New Zealand government arrested Dotcom in 2012 at his mansion near Auckland. Dozens of officers stormed the home, seizing millions of dollars in cash and over 135 electronic items, including hard drives and laptops. The website was shut down, with millions of legal files made inaccessible along with any illegal content.
The @MPAA makes false non-premium #Megaupload user file deletion claims to make believe that we didn't operate a cloud storage site. Stupid.

— Kim Dotcom (@KimDotcom) April 7, 2014
The internet tycoon was freed on bail in New Zealand but his movements have been restricted. He is currently pending his extradition hearing which has been scheduled for July 2014. If convicted, Dotcom could face a jail sentence of up to 20 years.
Dotcom along with his three colleagues have been battling US and New Zealand authorities ever since.
US authorities allege that Megaupload cost film studios and record companies more than $500 million and generated more than $175 million by encouraging paying users to share and store copyrighted material like movies and TV shows.
However, Dotcom claims Megaupload was merely an online warehouse and should not be accountable if the content was obtained illegally.
He has won a series of legal cases against US, including a case in New Zealand's High Court, which ruled that the police raid on his house was illegal, as wells as the seizure of hard drives that were later copied and taken by the FBI.
In March, Dotcom launched the Internet Party to contest New Zealand's general election in September. His party's campaign platform promises include free high-speed Internet, a high-tech job boom, restricted government surveillance and a review of the Trans-Pacific Partnership Agreement.
You can share this story on social media: