Dotcom to get 'involved in politics' as NZ govt proposes new surveillance bill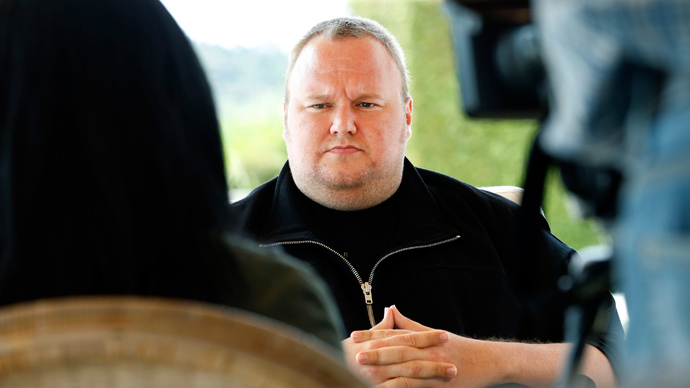 Tech mogul Kim Dotcom announced that he plans to be involved in next New Zealand general election while lobbying against a new legislation which would give spy agencies more powers to retrieve internet users' personal information.
"I'm going to get engaged. I'm going to help as much as I can during the next election to make sure there is a government that takes the internet more seriously," said the founder of the file-sharing service Megaupload at the "Mega Breakfast" annual meeting of the Institute of IT Professionals , the New Zealand Herald reports.

He urged the IT community to carry out a campaign to improve government policy concerning internet business and issues. At the meeting he called to lobby against a new legislation that would require internet and telecoms companies to provide backdoor government access and approval for new technology.

The new proposed  bill would allow the New Zealand's Government Communications Security Bureau (GCSB) to spy on its citizens on behalf of another agency, if they have a warrant.

The GCSB carried out domestic surveillance for the Security Intelligence Service, police and other agencies until last August, when the Kim Dotcom case raised questions about its legality. It was found that the GCSB were illegally spying on the Megaupload founder, a German national with New Zealand residency, prior to his arrest in January 2012 for alleged copyright violation.

Dotcom was subsequently arrested by the authorities who were aiding a US investigation into copyright violation. In March, Dotcom was granted the right to sue the secret services agency. According to an inquiry released in April, another 88 New Zealand citizens may have been illegally spied on.

Along with his Mega founder Mathias Ortmann he told the IT colleagues at the meeting that the recent revelations of the US NSA mass surveillance program by former CIA employee Edward Snowden, including New Zealand's GCSB, had boosted the demand for his company's encrypted cloud storage system.

At the Breakfast meeting Dotcom dismissed  Prime Minister John Key's  statement that the spying law had been misunderstood.

"The law says you can't spy on New Zealanders. John Key stands in front of cameras and says 'we misunderstood the law'. How stupid can you get?"

The revelation of illegal spying by government agencies had created a potential shift in responsibility for the Megaupload business, said Dotcom.

"The potential settlement or damages situation has changed quite a bit since we discovered what went on. Potentially, at some point, we could go after the New Zealand government for full damages. I've said before I don't want to be a burden to New Zealand. The majority of that (settlement) would be reinvested in submarine cables, rural broadband."

The internet tycoon announced that he is currently involved with two investor groups and is set to start work on a second submarine cable to bring faster internet to New Zealand within 12 months.

The Institute billed Dotcom and Ortmann's addresses as a chance to engage with those behind "New Zealand's largest tech start-up this year" said the NZ Herald.

You can share this story on social media: