8 killed in local election clashes as Turkey splits over rival parties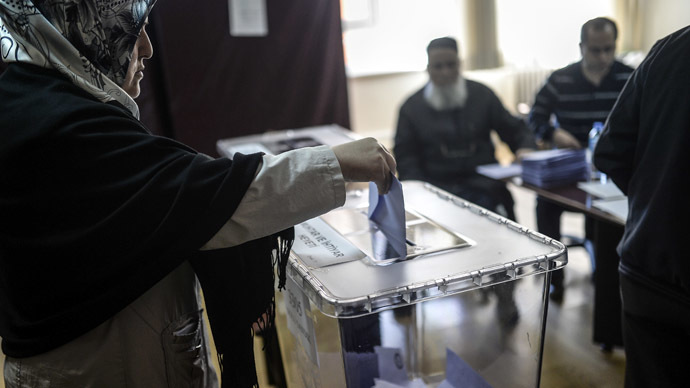 At least eight people have been killed in clashes between rival groups in Turkey's municipal elections, media reports say. Tensions soared at the polls that will decide the distribution of power between the country's two major parties.
Two people have been killed and nine more injured in the southern Turkish province of Hatay after a fight broke out between two rival candidates for village headman (muhtar), Hurriyet reports.
In the southeastern province of Sanliurfa, six people have been killed in a similar incident in Hilvan district and several more have been seriously injured, security sources said.
Al Arabiya reported that the incidents involved gunfire from both sides, supporting either candidates for Turkish Prime Minister Recep Tayyip Erdogan or his rivals. Whole families have reportedly been involved in some of the gun battles.
With over 90 percent of the ballots counted, the ruling AKP party candidates were winning slightly over 43 percent of the votes. The opposition CHP was trailing behind with 26 percent. The Nationalist Movement Party (MHP) was third with 17.5 percent of the votes cast.
The mayoral candidates from the ruling party have managed to secure victory in 49 cities and provinces, while the opposition won 32 posts in total.
However, in the key city of Istanbul, the ruling AKP was winning with a narrow margin of just around 7 percent.
In the capital Ankara, the opposition CHP is breathing down the Erdogan's party neck with less than 0.5 percent difference, according to the Hurriyet data.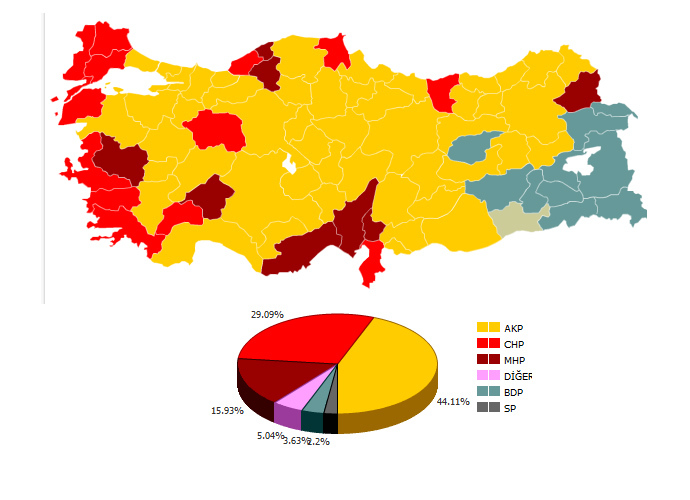 Preliminary results of the votes in different regions of Turkey started emerging hours before the time of the official announcement. However, state agency Anadolu and pro-opposition agency Cihan showed conflicting figures.
&while parties r playing the Ping pong game so is the media- here is another view of diff. in results #Turkeyvotespic.twitter.com/NNqz4NjCiH

— Arzu Geybulla (@arzugeybulla) March 30, 2014
More than 52.6 million Turkish voters in villages, towns and cities were expected to head to the ballot box to elect muhtars (heads of villages), district and provincial mayors, and municipality assembly members. According to Hurriyet, some 3.5 million people went to their home areas from other regions to cast their votes. Hundreds of thousands moved from Turkey's largest city of Istanbul, with intercity services having to sharply increase the number of buses to meet the demand.

Voter turnout was expected to be high amid tense political rivalry in Turkey. The previous 2009 local elections, won by Erdogan's Justice and Development Party (AKP), saw an 85.2 percent turnout.
[PHOTO 4] #TurkeyElections so far. Waiting in line. #Istanbulpic.twitter.com/RBRQvbMJl3

— Sara Firth (@SaraFirth_RT) March 30, 2014
Turkish authorities have taken extraordinary security measures at polling stations, summoning more than 15,000 police in Istanbul alone. Some 39,000 law enforcement officers will then oversee the counting of votes and their packaging and transferring in the city.

The exceptional security did not, however, prevent the controversial protest group Femen from going bare-chested in one of Istanbul's conservative pro-Erdogan districts. Police detained two naked Femen activists who attempted to grab and throw away a number of ballots and had "Ban Erdogan" inscribed on their chests and backs.
You can share this story on social media: