Turkey votes in crucial local elections amid graft scandal and social media ban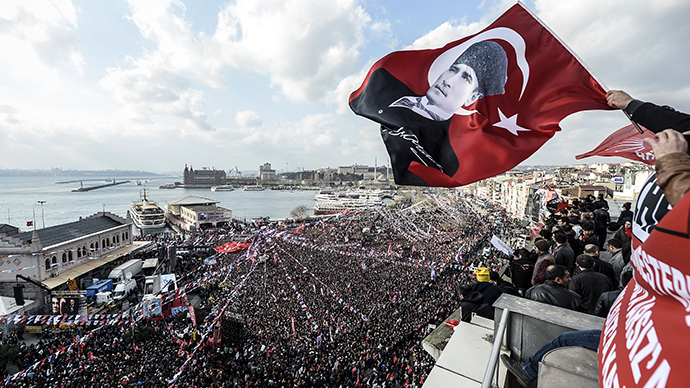 With Twitter bans, YouTube blocks, damning leaks and a 'shadow government' pulling strings behind the scenes, municipal elections in Turkey are only the beginning of a crucial 15-month voting cycle that could determine Turkey's future for decades to come.
Polls opened across the country on Sunday in what would normally regarded as small town politics replete with the nuts and bolt issues of governing like streets, schools and trash collection. But these are not ordinary times in Turkey, and what would normally be considered local fare is now being viewed as a much broader referendum on the ruling party of Prime Minister Recep Tayyip Erdogan and his ruling Justice and Development Party [AKP].
During the last poll in 2009, AKP clinched 39 percent of the vote, light years ahead of the socially liberal and Kemalist Republican People's Party (CHP), which only managed 23 percent. While AK Party actually took a 2.6 point hit compared to their 41.6 percent showing in 2004, analysts believe anything below 40 percent this time around will be considered a blow to Erdogan.
Along with CHP, the Nationalist Movement Party (MHP) and the pro-Kurdish Justice and Development Party (BDP) are also hoping to dethrone AK after over a decade in power.
The nationwide municipal poll is also the first time Turks will vote since last summer's antigovernment demonstrations, which left 11 dead and over 8,000 injured.
Despite a series of scandals which have completely changed the landscape of Turkish politics, opinion polls suggest the Islamist AK Party, which was first swept to power in 2002, will win on Sunday as well. That victory is viewed as a stepping stone in once against asserting its dominance in a year-plus voting cycle which will see the presidency up for grabs in August and the culminate in the June 2015 Turkish general election.
The mayoral elections in Ankara and Istanbul are viewed as the most important litmus test for Erdogan's rule, with many believing Sunday's result is vital to Turkey's very survival as a democratic state.
Istanbul, the 15-million-megapolis where Erdogan first tested his mettle as the city's mayor over 20 years ago, is viewed as the epicenter of events. As the old Turkish political aphorism goes: "The one who takes Istanbul, takes Turkey."
Mustafa Sarigul, the 57-year-old mayor of Istanbul's wealthy district of Sisli and CHP candidate, hopes to dislodge AK party incumbent Kadi Topbas in elections.
In the Turkish capital, Ankara, meanwhile, five-time AK Party incumbent Melih Gokcek is taking on the CHP's Mansur Yavas in the mayoral race. Gokcek bested Yavas during the previous race in 2009.
Meanwhile, the run-up to the local elections have been marked by constant rancor, with allegations of fraud adding to the protests over corruption and the suppression of political and civil freedoms from the opposition.
The latest scandal first erupted on December 17, when three AK Party cabinet ministers' children were arrested on corruption charges, and several government figures were targeted in graft investigations.
In February, a firestorm was sparked when audio recordings in which Erdogan is reportedly heard telling his son, Bilal, get rid of tens of millions of dollars, were posted on YouTube.
Erdogan has responded by purging thousands of police and prosecutors, lashing out at "traitors" and "terrorists" for organizing the campaign against him. Chief among them is rival Fethullah Gulen, the US-based head of the Gulen movement whom Erdogan has accused of organizing a "parallel state."
Then in a move that has since sent shockwaves through liberal sections of Turkish society, Erdogan moved to do away with the medium in which both the damning leaks and protests against his rule were publicized: social media.
Last week, Turkey blocked access to Twitter just hours before Erdogan promised to "wipe out" the social media network during a campaign rally in the northwestern city of Bursa.
Then on Thursday, access to YouTube was also cut off in Turkey after an explosive leak of audiotapes that appeared to show ministers talking about provoking military intervention in Syria.
Meanwhile, whatever Sunday's result, Erdogan, who will complete his third term next year, technically cannot run for a fourth term due to an AKP bylaw.
He does have the option of running for president in Turkey's first publicly-elected presidential elections later this year. There has also been talk of lifting the three-term limit to allow Erdogan to run for PM once again.
Critics fear that Erdogan's long-heralded "Turkish model", described as an example of a modern, moderate Muslim state that works, is steadily devolving into authoritarianism.
The popular Turksih daily Hurriyet published an open letter to Erdogan urging him to unite the country of 76.6 million people before it becomes irrevocably fractured.
"Whatever percentage of the votes you get, it should be your and all of your duty to defuse the dangerous polarization and tensions that has spread throughout the whole country."
Sunday could prove pivotal as the country struggles through what one senior government official called one of the biggest crises in Turkish history.
You can share this story on social media: