Turkey blocks Twitter after PM threatens to wipe it out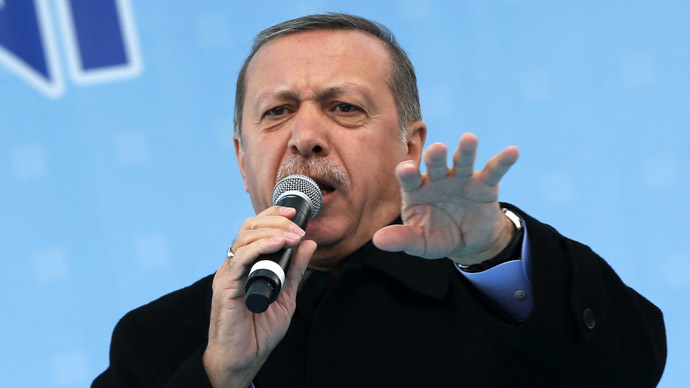 Turkey has blocked Twitter hours after embattled Turkish Prime Minister Erdogan threatened to close it down ahead of a key election. It comes after audio recordings purportedly demonstrating corruption among his associates were posted on the site.
Just before midnight, access to Twitter was blocked, Hurriyet Daily reports.
"We now have a court order. We will wipe out Twitter," the Islamist-leaning leader told a crowd of adulating supporters during a campaign rally in the northwestern city of Bursa on Thursday, AFP reported.
"I don't care what the international community says. They will see the Turkish republic's strength," Erdogan added.
According to the Press Advisory of the Prime Ministry, Twitter officials are currently ignoring court rulings demanding they remove some links.
"[In Erdogan's speech] it is stated that as long as Twitter fails to change its attitude of ignoring court rulings and not doing what is necessary according to the law, technically, there might be no remedy but to block access in order to relief our citizens," the statement says, as quoted by Hurriyet.
On Friday, Industry Minister Fikri Isik said Twitter must get a legal representative in Turkey and agree to block individual accounts if it is to hammer out a compromise solution to the problem which has led the government to block access to the service.
Last month, Turkey passed a controversial law tightening control over the internet, raising major concerns about free speech. It enabled authorities to block access to web pages within hours without a prior court order.
The Communication Technologies Institution (BTK) lists four court rulings on its website as the reasons for the latest block.
Twitter Inc says it is looking into reports that it has been banned in Turkey, Reuters says.
Multiple recordings have recently emerged not just on Twitter, but also on Facebook and YouTube, purportedly showing Erdogan – whose AK Party dominates the parliament – illegally meddling in political, legal, business, and media affairs.
In one recording, he instructs his son to hide tens of millions of euros worth of cash in the house. In another, he tells off an editor of a major newspaper for producing negative coverage. Erdogan has dismissed most of the recordings as "vile fakes" and accused a "robot lobby" of targeting his government through Twitter.
The leader also threatened to shut down YouTube and Facebook – which is used by 35 million Turks – last month.
The run-up to the local elections on March 30 – which will be followed by parliamentary and presidential polls – has been marked by constant rancour, with allegations of fraud adding to the protests over corruption and the suppression of political and civil freedoms from the opposition.
But the AK Party, which has been in power since 2002, is set to maintain its supremacy, if polls are to be believed.
On Friday Turkish President Abdullah Gul publicly came out against efforts to restrict access to social media websites.
"A total shutdown of social media platforms cannot be approved," Gul wrote on his own Twitter account.
Gul said only individual internet pages should be blocked, and only if a court has ruled personal privacy has been violated. The irony that the president was tweeting despite the PM's recent ban of the service was not lost on Turkish Twitter users. Gul added that he hoped the ban would not last for long.
While PM bans Twitter, President GUL is tweeting by using foreign dns numbers #TwitterisblockedinTurkey

— Mustafa Erdogan (@mustafaerdgn) March 21, 2014
#TurkeyBlockedTwitter Erdogan banned twitter!! Abdullah Gul is still tweeting :) proud(!) of my ridiculously funny country..!

— scarletletter (@scarlet1letter) March 21, 2014
The fact that the president himself has tweeted also shows how ineffective the ban has been, as there are many technical means to circumvent it.
The number of Tweets on Friday morning did not significantly drop, and in the first ten hours after Erdogan ordered the Twitter ban, half a million Tweets were posted by Turkish users, Hurriyet daily reports, citing Twittturk statistics.
Many have circumvented the ban through Virtual Private Networks (VPN) and Proxy channels.. Twitter co-founder Jack Dorsey said that using SMS was a viable means of circumventing the ban.
Meanwhile, the main opposition party, the CHP led by Kemal Kilicdaroglu, announced it was appealing to the courts against the measure ordered by the premier.
Europe is beginning to weigh in as well, with German criticism emerging on Friday. Spokesperson, Christian Wirtz, that "what we are hearing from Turkey does not comply with what we in Germany understand as free communication... it doesn't fit with our idea of freedom of expression to forbid or block any form of communication."
You can share this story on social media: