Twitter sues Turkey over service ban
Twitter has filed lawsuits in several Turkish courts to challenge an access ban on its service recently pushed through by Prime Minister Tayyip Erdogan. The move comes on the same day an Ankara administrative court moved to suspend the ban.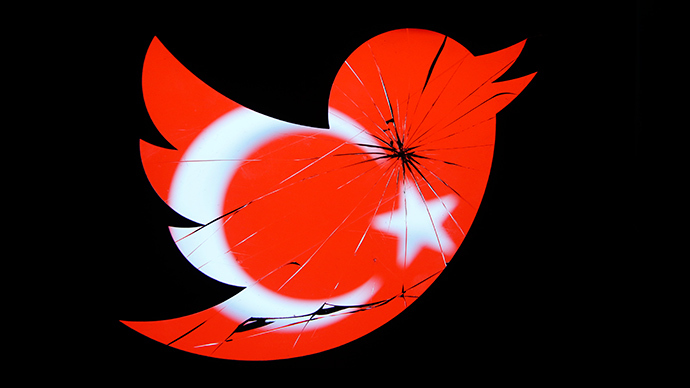 "It's now been six days since the Turkish government blocked access to Twitter. Throughout this time, we've been engaged in a discussion with Turkish authorities to hear their concerns, inform them about how our platform and policies work, and try and bring this situation to a resolution," Hurriyet Daily cited Twitter's general counsel, Vijaya Gadde, as saying on the social media platform's official blog.
"But still, the millions of people in Turkey who turn to Twitter to make their voices heard are being kept from doing just that."
Twitter said that Wednesday they filed petitions for lawsuits in various Turkish courts "to challenge the access ban on Twitter, joining Turkish journalists and legal experts, Turkish citizens and the international community in formally asking for the ban to be lifted."
The micro-blogging service also suspended content related to two of three court orders given as the legal basis for the ban because they violated its own rules. But it was challenging a third order to remove an account, which accused a former minister of corruption.
During a live TV broadcast Wednesday, Erdogan said that Twitter had failed to reach a compromise with authorities by agreeing to remove "one or two" pieces of content from the micro-blogging service. According to the PM, there are "approximately 700 pieces of content" that his government has demanded be scrubbed from the service.
Meanwhile, an administrative court in the capital, Ankara, issued a stay of execution on last week's decision by the country's telecommunication authority (TIB).
Once the TIB is informed by the court, the ban is expected to be lifted. The authority has 30 days to implement or appeal a court ruling halting a block on access to Twitter, a source in the PM's office told Reuters on Wednesday.
Six days earlier, Turkish authorities blocked Twitter, just hours after Erdogan threatened to close it down. Authorities claimed the popular social networking site had failed to remove allegations of corruption involving senior officials as the country prepares for local elections Sunday.
While users have found different of circumventing the prohibition, including virtual private networks (VPNs) and other proxy networks, the ban has had a concrete effect.
Erdogan has long had an adversarial relationship with the blogging platform – to the extent that in one of his speeches the PM even vowed to "wipe out" Twitter and dubbed it "a scourge."
Earlier this month, Erdogan also warned that Facebook and YouTube might be banned following Sunday's election.
"If Twitter, YouTube or Facebook act honestly, we can give any kind of support. But if they continue efforts to break up families, they have to face the Turkish Republic's government," Erdogan told a throng of supporters at a rally in Istanbul on Sunday.
Twitter and other social networking sites have been major platforms to transmit alleged tapped telephone conversations which appear to substantiate corruption allegations against Erdogan's inner circle. The revelations have forced the resignation of three ministers and a cabinet reshuffle. Erdogan claims the probe is an attempt by his political rivals to discredit his government.
Despite the scandals, opinion polls suggest that Erdogan's AK Party will win the March 30 municipal elections, which kick off a critical 15-month voting cycle that will culminate in presidential and parliamentary contests.
You can share this story on social media: