Israel prepares to build 1,000 new homes in occupied East Jerusalem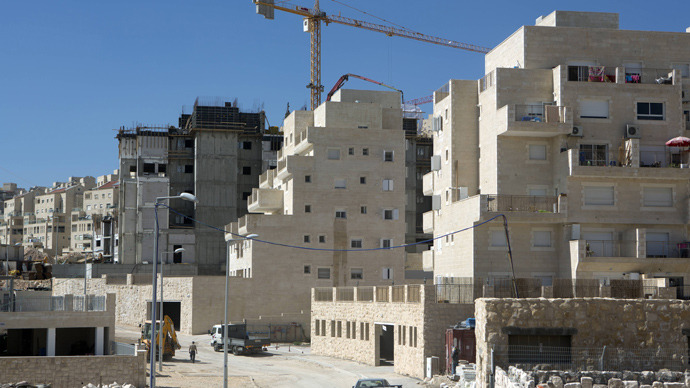 Israel will reportedly build more than 1,000 new homes in East Jerusalem as part of its ongoing ethnic cleansing program in the occupied territories. It comes amid the latest complaints by Palestinians that their homes have been illegally bulldozed.
Construction contracts for 300 homes in the northeastern settlement of Ramot were signed, and another 797 land plots in the much larger settlement of Gilo in Jerusalem were listed for sale. Danny Seidemann, a director of the Jerusalem settlement watchdog group Terrestrial Jerusalem, told AFP that the building was quietly ordered last year by Israeli Prime Minister Benjamin Netanyahu. 
The housing project is certain to draw the ire of the international community, which cites international law nullifying Israel's domain over the region, which the country annexed after the 1967 Six-Day war. Netanyahu has reportedly pushed the project under the carpet temporarily so as not to impact US Secretary of State John Kerry's efforts to bridge peace talks between Israel and Palestine. 
Reacting to the news of Israel's plans, the US government said the idea was "counterproductive" to peace efforts with Palestine. 
"As [US President Barack Obama] has said, Israelis must recognize that continued settlement activity and new housing construction in East Jerusalem is counterproductive to the cause of peace, as that an independent Palestine must be viable with real borders that have to be drawn," said State Department spokeswoman Jen Psaki. 
"The US position on settlements is clear and has not changed: we do not accept the legitimacy of continued Israeli settlement activity, which would undermine peace efforts and would contradict Israeli commitments and obligations." 
The State Department's stance runs parallel with comments from Saeb Erakat, a top Palestinian negotiator, who said the idea is "destroying" Kerry's ability to negotiate. 

Word of the land purchases is said to have been leaked by Israeli Housing and Construction Minister Uri Ariel in an effort to pressure the prime minister. 
"This does not mean that the show is over, it does mean that Netanyahu's minister of construction is trying to achieve that," Seidermann told the AFP. "There is a de facto freeze at the moment, there have been no new units since the elections. This is an attempt to force Netanyahu's hand."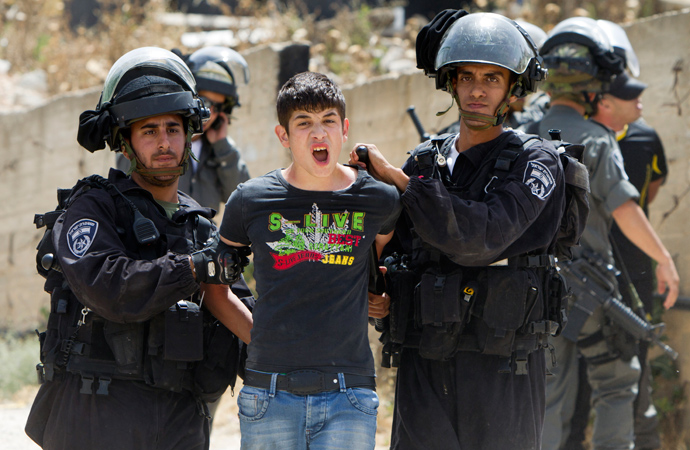 The leak coincides with news that Israeli forces demolished two Palestinian homes in Beit Hanina, in East Jerusalem. The destruction was closed off to media and pedestrians but Badran al-Salameh, who owns the homes, told the Palestinian Ma'an News Agency he was not given prior notice of the demolition. 
"My son's wife and his two kids were the only ones inside the house," he said. "I tried to reach my home when I heard from neighbors but Israeli officers banned me. I wanted to take out my wife's gold and money from one of the drawers." 
The incident in question came as a result of the Salameh family reportedly lacking Israeli building permits, a justification Tel Aviv has used to forecefully displace over 1,630 non-Jewish families since 1967. 
Palestinian leaders have demanded a halt to Israeli settlement construction before the continuation of so-called peace talks, which have remained stagnant for nearly three years. Despite Kerry's four trips to the region since being made Secretary of State, those close to the situation say the instability is unlikely to be resolved. 
"Kerry is still unable to put pressure on the Israeli government to meet its obligations under the terms of the peace process," Palestinian negotiator Nabil Sha'ath told the Jerusalem Post Wednesday. "This is not because Kerry does not want but because he is unable to exert pressure on Israel. Israel is responsible for obstructing the peace process."
You can share this story on social media: