Clashes as thousands of Palestinians mark 65 years since displacement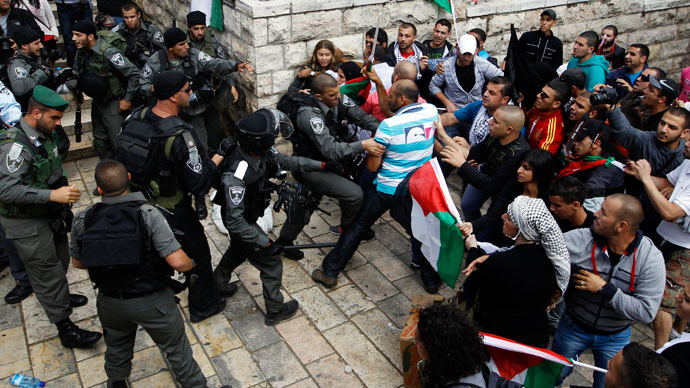 Police and protesters were injured as Palestinians clashed with the IDF in Jerusalem and across the West Bank during rallies to commemorate the Nakba, or the 'catastrophe' of the displacement of Palestinians after the creation of Israel in 1948.
Israeli Defense Forces (IDF) reportedly had to use teargas and rubber bullets in response to Palestinian protesters throwing rocks at soldiers.
In Jerusalem, two policemen were wounded as a result of clashes, reports Haaretz. A fire bomb was thrown at an IDF vehicle injuring four soldiers near the city of Hebron in southern West Bank.
According to Palestinian WAFA news agency, several "peacefully demonstrating" Palestinians were injured during confrontations with IDF at Kalandia checkpoint, between Jerusalem and Ramallah. Violence broke out after Israeli soldiers fired teargas and acoustic bombs at protesters, the agency states.
The IDF spokeswoman, however, said it was Palestinians who sparked the clashes, throwing stones at soldiers, while Israeli forces had to respond with crowd dispersal techniques, reports the Jerusalem Post. 
Some 16 Palestinian protesters were arrested at Damascus Gate in Jerusalem after hurling stones and bottles at police officers.  One of the officers was taken to hospital after his head was injured, in a separate incident an Israeli Jew recieved minor injuries after being beaten by a Palestinian, according to JPost. 
In the afternoon Palestinian militants fired rockets at Eshkol Regional Council in Southern Jerusalem, causing no injuries or damages, according to Israeli media. 
Clashes were also reported in other locations in the region, including Kadum and at Rachel's tomb in Bethlehem.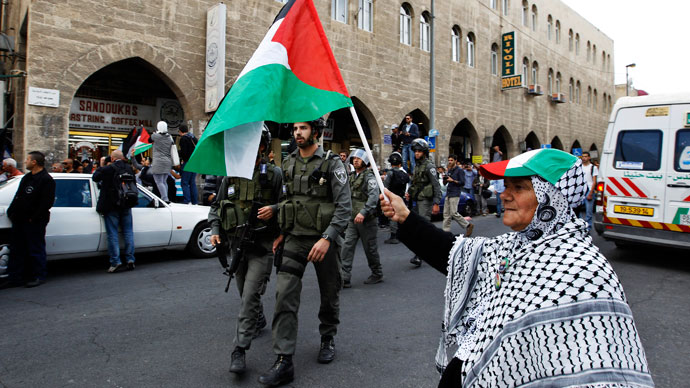 On May 15, thousands of Palestinians throughout Israel, the West Bank and the Gaza Strip took part in events to mark 65th anniversary of the Nakba Day – the day after the creation of the State of Israel, which resulted in the mass displacement of Palestinians. 
At noon, sirens wailed in the West Bank for 65 seconds to commemorate the event.
In Ramallah, thousands marched on the Nakba Day from the grave of the late Palestinian leader Yasser Arafat to the city center. In a sign of mourning, many demonstrators were wearing black and chanted "The right of return will not die." Protesters were also holding Palestinian flags and large keys that symbolized homes they fled or were forced to leave decades ago.
About a thousand Palestinians marched to the United Nations headquarters in Gaza City.
"Israel has no place on the land of Palestine, we will free all the land of Palestine, and we will establish our state after all the refugees come back," Hamas leader Khalil al-Haya, stated at the rally, as cited by AP.
According to the Palestinian Central Statistics Bureau, 5.3 million of the 11.5 million Palestinians around the world, are registered by the UN as refuges in Syria, Lebanon, Jordan, the West Bank and Gaza.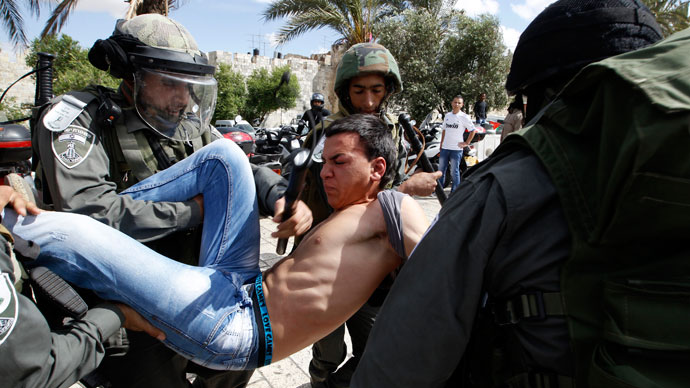 You can share this story on social media: