'Amateurish hoax': Graph from textbook 'implicates' Iran in nuclear ambition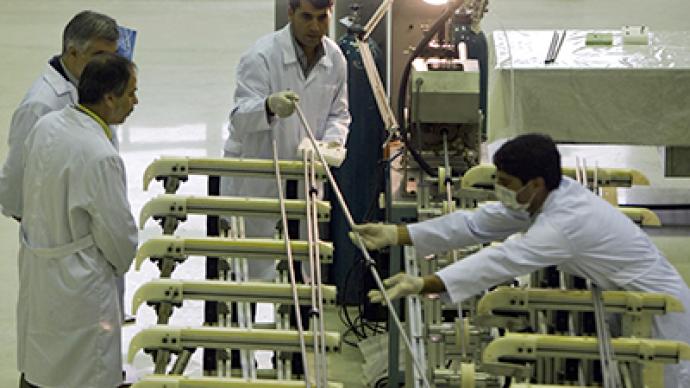 Critics of Iran were left embarrassed after leaking a scientifically flawed diagram that a nuclear science student could produce, as "proof" of Tehran's ambition to build a nuclear bomb. Still they insist their suspicion is well-grounded.
The chart published Tuesday by AP was leaked by an unnamed official from a country critical of the Iranian nuclear program. Allegedly authored by Majid Shahriari, an Iranian nuclear researcher, who was assassinated in 2010, the diagram was said by the source to represent results of a computer modeling of a 50-kiloton nuclear device.The report however came under fire shortly afterwards, with critics pointing out that the diagram was both flawed and did not require any secret knowledge to produce it."This diagram does nothing more than indicate either slipshod analysis or an amateurish hoax," nuclear scientists Yousaf Butt and Ferenc Dalnoki-Veress, write on the website of the Bulletin of Atomic Scientists.The chart shows two curves, one that plots the energy versus time, and another that plots the power output versus time. If the legend is correct, it represents a blast of nearly 2 million kilotons.The most powerful thermonuclear bomb ever built – the Soviet AN602 nicknamed "Tsar Bomba" – had a yield of about 100,000 kilotons, and that was reduced to 50,000 kilotons for the 1961 test.Even if the apparent million-fold error, "which is unlikely to have been made by research scientists working at a national level," is not taken into account, the diagram is not a cause for alarm, the critical comment said. Similar graphs are freely available in nuclear science textbooks on the internet and have been common knowledge since the 1950s.The diagram "does not imply that computer simulations were actually run, even if they were, this is the type of project a student could present in a nuclear-science course," Butt and Dalnoki-Veress write at the site.The scientists also point out that some countries, which are not party to the Nuclear Non-Proliferation Treaty "have conducted much more serious computational research on nuclear weaponry." They cite Brazil's military simulation of thermonuclear device detonation as an example.In response to the criticism AP published a follow-up report on Friday. David Albright from the Institute for Science and International Security explained that the numbers would match up, if the legend read joules per 10 nanoseconds instead of kilotons per second.The news agency further cites a senior diplomat as saying that Shahriari intentionally simplified the diagram to make it comprehensible to Iranian government officials to whom they were presenting it.The diplomat also said the International Atomic Energy Agency, the UN nuclear watchdog monitoring Iranian nuclear research, has a spreadsheet presumably also drawn by Shahriari, containing data needed to build a 50-kiloton nuclear device. The document however remains classified.He also confirmed that similar graphs can be found in public sources, but said the IAEA "found that irrelevant because of the totality of its information about Iran's alleged interest in plotting the force of a nuclear explosion, which included the drawing seen by the AP."Critics of Iran say it wants to create a nuclear weapon under the guise of its civilian industry. They want to force Tehran to stop enrichment of uranium, claiming that its hoarding the fissile material for an eventual spurt for the bomb.The diagram leaked to AP was intended by the unnamed critics "to bolster their arguments that Iran's nuclear program must be halted before it produces a weapon".One of the most local critics, Israel, threatened to attack Iranian nuclear facilities before it can protect them from such an attack, saying it is the only way to prevent Iran from going nuclear.Iran denies the allegation, saying it pursues peaceful nuclear development. It says it needs uranium as fuel for research reactors and eventually for nuclear power plants. Iran currently has one Russian-built power plant in Bushehr, but Russia both supplies the fuel rods for it and processes the spent fuel.The IAEA, which relies on its own research as well as member state intelligence in its monitoring of Iranian nuclear program, so far produced no solid proof that Tehran intends to weaponize its research.