Iran ready to halt 20% uranium enrichment, West must reciprocate – Lavrov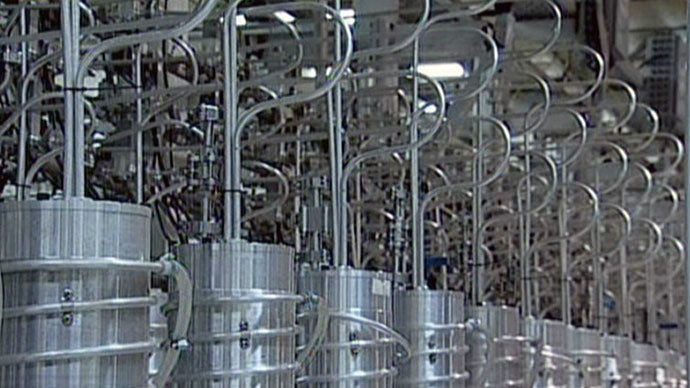 Iran has confirmed it is prepared to halt its enrichment of 20-percent uranium, Russian Foreign Minister Sergey Lavrov said, urging Western nations to end their sanctions against Tehran.
 "For the first time in many years, there are encouraging signs in the process of settlement of the situation with the Iranian nuclear program," he said in the interview to Kuwait's KUNA news agency, that was published on  Russian Foreign Ministry's website.
"Without going into details, the Iranians confirm the most important [point]: Their readiness to stop 20 percent uranium enrichment at its current levels," Lavrov said."This could become a breakthrough agreement, significantly alleviating existing problems, including concerns about the possibility of advanced uranium enrichment to a weapons-grade level." 
Such a move "implies significant reciprocal steps by the Six," the minister added, referring to the group of world powers seeking to peacefully resolve the issue of Iran's nuclear program.
"The international community must adequately respond to the constructive progress made by Iran, including gradual suspension and lifting of sanctions, both unilateral and those introduced by the UN Security Council. It would be a shame not to take advantage of this opportunity," Lavrov concluded.

News of Iran's possible concessions over its nuclear program comports with promises made by Iranian President-elect Hassan Rowhani, who vowed to make the program more transparent.
Still, the moderate cleric stressed on Monday that Tehran would not consider halting the country's uranium enrichment activities entirely. Rowhani insisted that Iran's nuclear activities are "within the framework of law," and dubbed the international sanctions "baseless."
Despite numerous accusations by Israel and the US that it is secretly conducting military nuclear research, Iran has maintained that its nuclear program is only for civilian purposes.
At his first media conference since winning the presidential elections, Rowhani – who previously headed Iran's delegation during  nuclear talks with the six world powers – said that Tehran's nuclear activities "are already transparent," but "the only way to end the sanctions is to increase the transparency and trust" between Iran and the international community.
Washington has been expecting changes in Iran's hardline stance on the nuclear issue following the country's presidential elections. White House Chief of Staff Denis McDonough said Sunday on 'Face the Nation' that Washington is ready to work with the new administration in Tehran, "If he lives up to his obligations under the UN Security Council resolution to come clean on this illicit nuclear program."
But Israeli Prime Minister Benjamin Netanyahu remained unconvinced: "The international community must not become caught up in wishes and be tempted to relax the pressure on Iran to stop its nuclear program," he said. 
President-elect Rowhani will assume office in August. He believes that he can heal the "old wound" of troubled US-Iran relations if Washington stops interfering in Tehran's internal affairs and permanently ends its "bullying" practices towards Iran.

You can share this story on social media: