Interpol hits back at Malaysia claim that int'l police to blame for MH370 passport confusion
Published time: 29 Mar, 2014 01:36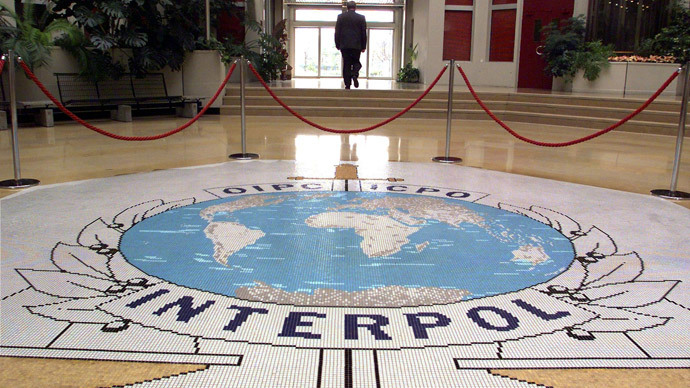 Officials from Interpol refuted a claim from Malaysia Friday in which the government said it could not check through the international police agency's passport database because the process was too much of a burden.
As international investigators continue their search for the missing Malaysia Airlines flight that disappeared weeks ago, the Malaysian government revealed it had not checked the passports of the missing passengers with Interpol's database, which lists stolen passports.
Interior Minister Zahid Hamidi told the Malaysian parliament Wednesday that Interpol's vast database of lost passport records was "too large" and would be too much for Malaysia's database management system, according to Reuters quoting the local Malay Mail Online.
"Furthermore, Interpol's information of lost (passports) may slow down the process of immigration checks at counters," Zahid said.
Two passengers were able to board flight MH 370 with stolen Austrian and Italian passports. The plane, which has still not been recovered, was last tracked over the South China Sea on March 8 with 239 people on board. The authorities have said they do not think the two passengers in question had anything to do with the mystery.
Interpol has taken exception to the country's assertion. The Lyon, France-based agency said Friday that no member country has ever complained that the process is too slow, in part because it takes under a second to find out if a passport is listed as stolen.
"Malaysia's decision not to consult INTERPOL's Stolen and Lost Travel Documents (SLTD) database before allowing travellers to enter the country or board planes cannot be defended by falsely blaming technology or INTERPOL," it said. "If there is any responsibility or blame for this failure, it rests solely with Malaysia's Immigration Department."
Frustration with Malaysia stretches far beyond the offices of Interpol, though, as a large boycott of all things Malaysian has been organized in China in response to what millions of people perceive as a flawed investigation.
Barbara Demnick of the Los Angeles Times reported on Friday that the families of the missing passengers who have gathered at Beijing's Lido hotel since March 8 protested a Malaysia Airlines press conference rather than listen to another update. There were 227 passengers onboard the flight, 153 of them Chinese.
"I just want to say to the Chinese families – it is not just them," Malaysian transportation minister Hishamuddin Hussein said Friday at a press conference in Kuala Lumpur. "Fourteen other nations have lost family members."
A number of Chinese ticketing agencies have prohibited the sale of airplane tickets to Malaysia, with a spokesman from eLong travel saying the agency would keep the policy in place "indefinitely until the Malaysian government and Malaysia Airlines release every piece of information they have in order to find out the truth of the missing flight as soon as possible."