MH370 lost, plane went down in Indian Ocean, no survivors - Malaysia Airlines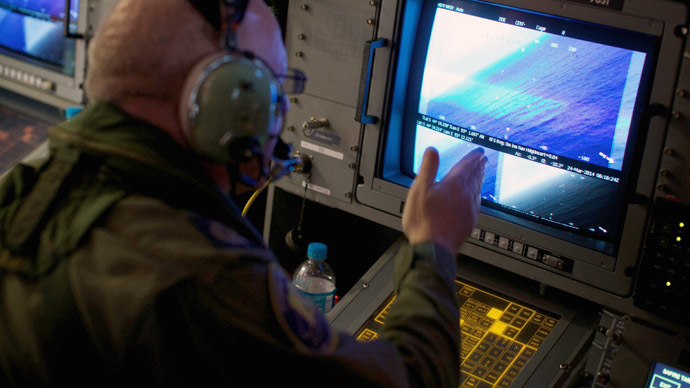 ​Malaysian airlines have announced beyond any reasonable doubt that flight MH370 has been lost and that none of those on board have survived.
The text msg Malaysia Airlines sent to inform Chinese #MH370 families about flight's fate ending in S Indian Ocean pic.twitter.com/Ys3azWL7WB

— Adrienne Mong (@adriennemong) March 24, 2014
Malaysian Prime Minister Najib Razak has made an announcement, saying "It is therefore with deep sadness and regret that according to this new data, flight MH370 ended in the southern Indian Ocean."
The Boeing 777-200 disappeared from civilian radar screens on the night of the March 8 after taking off from Kuala Lumpur with 239 people on board, en route for Beijing.
There were reports that military radar picked up an unidentified plane, after the stricken jet lost contact with air traffic controllers, which had made a sharp turn as well as descending to a much lower altitude before heading out into the Indian Ocean.
There have been no confirmed sightings of the plane or any debris that can be conclusively linked to it after an international search that has lasted two weeks. The search over the Indian Ocean entered its fifth day on Monday.
The UK Air Accidents Investigations Branch (AAIB) told the Malaysian authorities that the plane's final location was above the southern Indian Ocean.
"Using a type of analysis never before used in an investigation of this sort,they have been able to shed more light on MH370's flight path."

— Mohd Najib Tun Razak (@NajibRazak) March 24, 2014
"Based on their new analysis, Inmarsat & the AAIB concluded that the last position of #MH370 was in the middle of the Indian Ocean."

— Mohd Najib Tun Razak (@NajibRazak) March 24, 2014
"We share this information out of a commitment to openness and respect for the families, two principles guiding this information," Najib Razak said.
The Malaysian PM's somber announcement comes just a few hours after the Australian Prime Minister Tony Abbot said that an Australian navy plane searching the area had spotted debris floating in the sea and that a ship from the Australian navy, HMAS Success, was just a few hours away and would hopefully be able to identify the objects.
Also earlier today a Chinese plane sighted objects in the search area, but different to those seen by the Australian air crew.
Three areas were identified for operations on Monday, totaling 20,000 square nautical miles with 10 aircraft being used.
While Australia is currently the only country to have a ship in the area, a number of Chinese vessels will arrive on Tuesday together with a further three aircraft - two from Japan and one from the UAE.
While 6 Malaysian ships are in the north part of the southern corridor and HMS Echo, a British survey ship, is in the Maldives refueling and will sail to the southern corridor on Monday evening.
Many theories have been put forward by a range of experts on what could have happened to the missing plane. One of the most convincing was by a Canadian pilot, Christopher Goodfellow, who said there may have been an electrical fire on board, which would have disabled many of the plane systems, although not all of them.
The pilots would have dropped altitude quickly and changed course to try and land the crippled plane at the nearest available airport, but before they could do this they and everybody else on board would have been overcome by smoke inhalation, while the plane flew on auto pilot before running out of fuel over the Indian Ocean.
You can share this story on social media: