'Down with India': Protests over hanging of Kashmiri separatist turn violent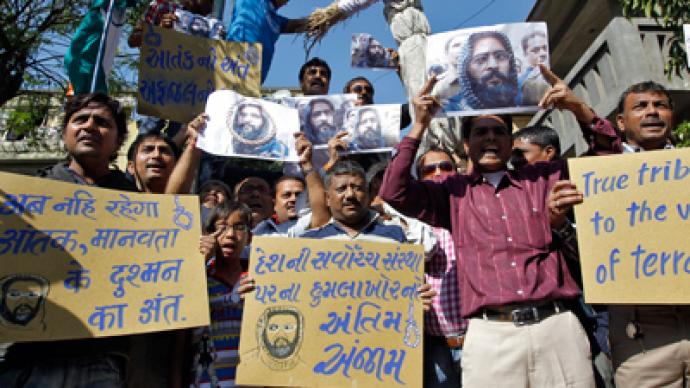 Dozens have been injured in clashes between protesters and police in India, after demonstrators took to the streets over the hanging of a Kashmiri man accused of a 2001 attack on India's parliament.
Security forces used tear gas and batons against the protesters, with 36 people being wounded in the violence, including some police officers. Most of the clashes occurred near the home town of the sentenced man's home district.  People in the crowd were heard shouting "Down with India", whilst also burning an Indian flag.
The Kashmiri separatist Mohammed Afzal Guru, was executed after authorities convicted him of providing arms for the gunmen who attacked India's parliament, as well as a place for them to stay. Guru has always pleaded not guilty, but was hanged in the capital, New Delhi, after his mercy petition had been rejected by the country's President Pranab Mukherjee in February."It was the law taking its course," India's home secretary, R.K. Singh, told reporters in reaction to the execution, according to AFP.However, the leader of the separatist faction Guru belonged to, Hilal Ahmad War, said, "The hanging of Afzal Guru is a declaration of war by India."Guru and his supporters frequently said he never got a fair trial, and his brother reiterated that on Saturday, indicating that the family hadn't even been notified of the execution.
In the wake of the Saturday's execution, security was heavily stepped up in towns across Kashmir, with hundreds of police and paramilitary forces deployed, and barricades constructed to help curb the violence.The Indian government blocked Internet services in order to stop news of the hanging and the ensuing protests from spreading. The chief minister of Jammu and Kashmir state, Omar Abdullah, made a televised appeal for calm, Reuters reported. Kashmiri militants have historically been backed by Pakistan. At the time of the parliament assault tensions between India and Pakistan were running so high the two countries were on the brink of a war, with almost a million troops on both sides mobilized.As for the attack Guru was sentenced for, on December 13, 2001, five militants attempted to storm the parliament complex in New Delhi. The assailants were armed with grenades, guns and explosives, but security forces killed them before they could enter the main chamber. Ten other people, most of them security officers, were killed in the attack.
You can share this story on social media: