Mass demonstrations in India as anger over sexual violence reaches boiling point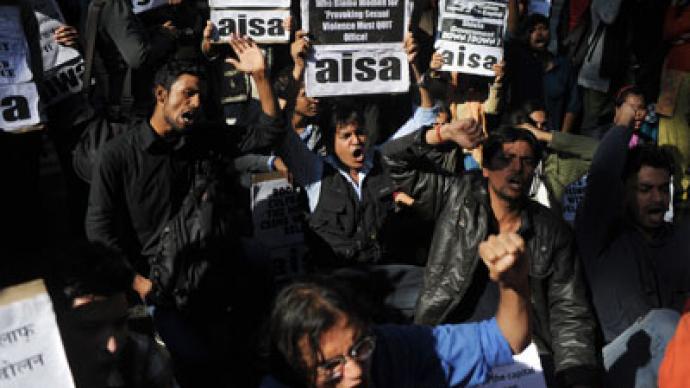 Tens of thousands of Indians poured onto the streets in protest against the violent gang rape of a woman in Delhi last week. The incident appears to be a tipping point in the fight against a commonplace occurrence in the country.
The protesters, many of them young women, gathered outside key buildings in Delhi, including parliament and the police headquarters. The crowds chanted, and many held up banners calling for death sentences for rapists. Capital punishment is legal in India, but reserved only for the gravest crimes.Students set up road blocks across the city, bringing the already congested city to a standstill.In most places the crowds dispersed peacefully, though police used water cannons to drive away the crowd surrounding the residence of the Chief Minister of Delhi, the city's highest elected official.Meanwhile, parties crossed the political divide to join in condemnation of the persistent attacks against women. The country's celebrities also made statements, with leading Bollywood actor Amitabh Bachchan posting a message on Facebook, saying "Let every Indian become a vigilante, a soldier, a commander that shall fight such heinous crimes with strength and conviction!"Two more gang rapes were reported to the police on Wednesday, including one in which a ten year-old girl was killed and dumped in a canal.
Meanwhile, the 23 year-old victim of Sunday's attack remains in hospital in critical condition.Six men were drinking and joyriding on a private bus with tinted windows on Sunday evening. The victim, who is a physiotherapist, and her male companion boarded the vehicle.An altercation broke out after the joyriders said that "only prostitutes choose to travel with men at night".The woman was raped several times, then sliced with a knife, beaten with an iron rod and dumped on a fly-over. Her companion was also beaten brutally, and his family say he is still in shock and unable to speak.The doctors at Delhi's Safdarjung Hospital had to remove the woman's intestines, and said the incident was "one of the most tragic incidents" they had ever seen.Four of the men have been arrested, while two remain on the loose.Police say that 572 rapes were reported in Delhi last year, and 635 so far in 2012.The real rate is likely much higher than the number prepared to go to the police, as the victim is often thought to bring shame on the family, while hopes of achieving justice through the overburdened legal system are remote."Trials take almost eight to nine to 10 years, depending on the situation. Trials don't go to complete fulfilment and the conviction rate itself is fairly low," Pinky Anand, a New Delhi lawyer told Global Post.
You can share this story on social media: