GOP candidate's abortion gaffe: Pregnancy from rape 'intended by God'
Published time: 24 Oct, 2012 07:38
Edited time: 24 Oct, 2012 11:38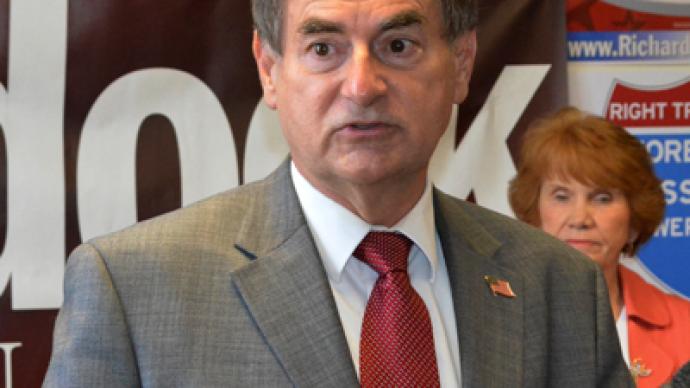 An incendiary gaffe on abortion raised eyebrows after a recent debate between US Senate candidates in Indiana. Republican Richard Mourdock suggested that a woman being impregnated by rape is "something that God intended to happen."
Mourdock, a Tea Party-backed candidate, was pitted against Democratic and Libertarian rivals at the Tuesday event. He expressed his belief that life began at conception, and that abortion should be illegal even in cases of pregnancies resulting from rape or incest.
"I struggled with it myself for a long time, but I came to realize life is that gift from God," Mourdock said. "And I think even when life begins in that horrible situation of rape, that it is something that God intended to happen."
Democratic challenger Joe Donnelly, an anti-abortion politician himself, immediately pounced on the comment, questioning the notion that God would "intend for rape to happen."
"The God I believe in and the God I know most Hoosiers believe in, does not intend for rape to happen – ever," Donnelly said. "What Mr. Mourdock said is shocking, and it is stunning that he would be so disrespectful to survivors of rape."
Mourdock scrambled to clarify his words, immediately going into damage control during a post-debate media conference.
"What I said was, in answering the question form my position of faith, I said I believe that God creates life. I believe that as wholly and as fully as I can believe it. That God creates life," Mourdock said. "Are you trying to suggest that somehow I think that God pre-ordained rape? No, I don't think that. That's sick. Twisted. That's not even close to what I said. What I said is that God creates life."
Republican presidential nominee Mitt Romney, who on Monday appeared in a campaign video supporting Murtock, distanced himself from the controversial comment. "Gov. Romney disagrees with Richard Mourdock's comments, and they do not reflect his views," Romney spokesperson Andrea Saul said in a statement on Tuesday night.
Mourdock is not the first GOP politician finding themselves embroiled in controversy over statements concerning rape and abortion. Earlier, Missouri GOP Senate candidate Todd Akin drew widespread criticism for his false claim that pregnancies resulting from what he termed "legitimate rape" were "really rare."
The remark triggered public outrage from rape victim advocates, doctors and both political camps in the US, despite Akin's apologizing that he "misspoke."