Romney's ties with voting machines makers raise alarms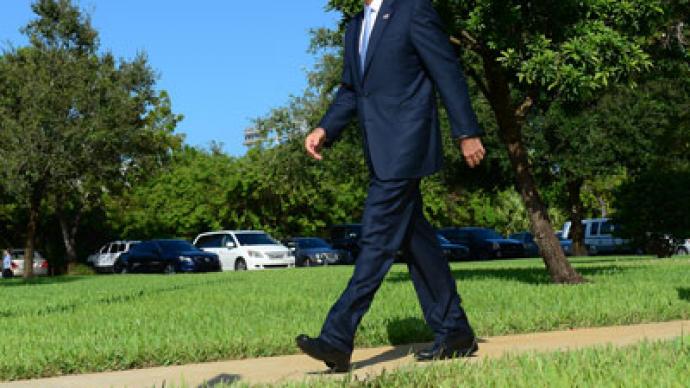 Producers and investors of voting machines that have previously shown susceptibility to fraud in Ohio have been found to donate hundreds of thousands of dollars to the Romney campaign, raising concern about a dangerous bias in a major swing state.
Directors at Hart Intercivic, a national provider of voting systems, were found donating vast amounts of money to the Republican presidential nominee Mitt Romney. Some of the company's major investors are also big-time donors to the GOP campaign. Voters may feel uneasy because the voting machines produced by Hart Intercivic were found to be prone to corruption, according to an article written by Forbes contributor Rick Ungar.A 2007 test by the Ohio secretary of state found that five electronic voting systems that were to be used in the 2008 election were vulnerable to fraud. These machines, produced by Hart Intercivic and employed throughout Hamilton County, were susceptible to malignant software and having their locks picked. A study testing the security of the machines found that hand-held devices were able to plug false vote counts into the machines.Two members of Hart Intercivic's board of directors, Neil Tuch and Jeff Bohl, have donated to the "Romney for President" campaign. Bohl gave the Republican nominee a total of $4,000. He also gave $250 to Barack Obama, perhaps after realizing the mistake he made, working for a company in which non-partisanship is important.Additionally, one of Hart Intercivic's main investors is HIG Capital, a multi-billion dollar investment fund with employees who are some of Romney's wealthiest supporters. At least two of the five seats on the board of directors belong to HIG Capital. The investment fund's founder Tony Tamer, along with three other HIG directors, are some of Romney's most significant donors.Douglas Berman and Brian Schwartz, two of those directors, were at Romney's fundraiser in Boca Raton, Florida, on May 17. The cost of attendance was $50,000 per head. Overall, HIG is the Romney campaign's 11th-largest contributor.To make the association even more distinct, one of HIG's investors is Solamere Capital, which was founded by Romney's son, Tagg, and his campaign finance chair, Spencer Zwick. Many of Romney's family members, including himself and his wife, have invested in the Solamere Capital.No Republican candidate has ever won the presidency without winning the state of Ohio. With a state carrying so much weight in the election turnout, any potential bias among those who produce the voting machines could sound alarm bells, especially if the machines have previously showed signs of failure.Hamilton County, where the machines will be used during the 2012 election, includes Cincinnati and is the third most-populous county in Ohio. It has a population of more than 800,000.
You can share this story on social media: