'Release Aamer!' Campaign for British man's freedom after Gitmo torture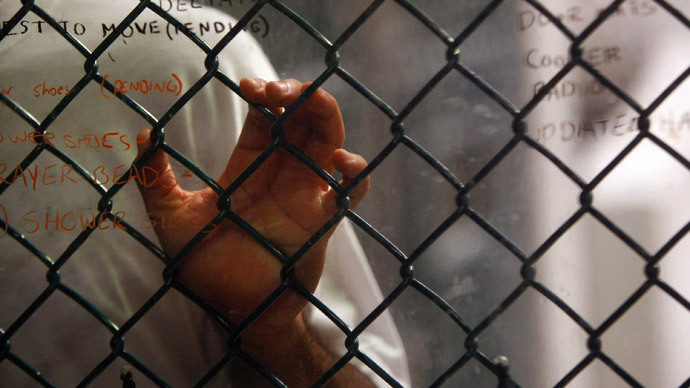 A campaign group has filed a motion for a British resident's release from the Guantanamo Bay prison on the grounds of ill health. Shaker Aamer, who has been held for 12 years without charge, is suffering from both physical and mental problems.
Aamer, who was born in Saudi Arabia but was given indefinite leave to remain in the UK after marrying a British national, underwent an examination with an independent forensic psychiatrist, who concluded he was suffering from post-traumatic stress disorder, depression and paranoia. The inmate gave an insight into life at the military prison, saying interrogators had threatened to rape his five-year-old daughter and had refused to let him go to the toilet.
Dr. Emily Keram, who assessed the 45-year-old, said "the length, uncertainty and stress of Mr. Aamer's confinement has caused significant disruptions in his…ability to function. He is profoundly aware of what he has lost."
The forensic psychiatrist said Aamer's condition was impossible to treat at Guantanamo Bay and recommended that he should be reintegrated with his family and society to try and help him overcome his horrific ordeal.
Aamer's lawyers filed a motion in court in Washington, DC, on Monday asking for his release due to his very poor health. Meanwhile, Keram mentioned that his condition would only worsen if he was sent back to his native Saudi Arabia. The prisoner has a wife and four children, one of whom was born after he was arrested in the UK.
His condition has not been helped since he started a hunger strike in February 2013 to protest at his maltreatment. Shaker Aamer was a major figure in organizing this form of direct action and at its peak last summer; prison officials said over 100 of the 166 detainees were taking part. Despite refusing food, he and the other prisoners were force-fed, even though he protested that this violated both their constitutional rights and the Religious Freedom Restoration Act.
Aamer's claims of torture in the military prison have been backed up by former inmate David Hicks. Speaking to RT, the 38-year-old Australian who spent over five years in Guantanamo claimed he was subjected to both mental and psychological torture, forced to take injections and brought to the brink of suicide by prison staff.
"Myself and everyone else were tortured on a daily basis," Hicks said. "That ranges from typical physical beatings to a whole range of psychological ploys. There was medical experimentation that was very scary to be subjected to."
After almost five years at the facility, Hicks said he had lost the ability "to fight, to have hope, to believe that justice would prevail," and was contemplating suicide.
"Guantanamo is sort of this black hole where supposedly no laws apply except what they decide."
Aamer's case has been raised by British Prime Minister David Cameron with Barack Obama, while more than 100,000 Britons have signed a petition calling for his release. However, he is still incarcerated at Guantanamo, despite never having been charged with any crime.
He was arrested in 2001, with US authorities saying he had led a unit of Taliban fighters against NATO troops and had met Osama Bin Laden. However Aamer maintains his innocence and has always said he was in Afghanistan with his family to undertake charity work.
You can share this story on social media: