'Gitmo a black hole where no laws apply' – former detainee
Australian citizen David Hicks suffered torture and brutal beatings at the hands of guards at Guantanamo prison. Breaking the gag order that was a condition of his release, Hicks spoke to RT about his ordeal and how he was coerced into pleading guilty.
38-year-old David Hicks spent over five years in Guantanamo Prison accused of aiding terrorists. He was eventually convicted under the 2006 Military Commissions Act for "providing material support to terrorism" and released in 2007 after pleading guilty. Hicks has filed to have the convictions overturned, alleging his plea was made under duress and he had no other choice but to confess.

During his six years at Guantanamo, Hicks says he was subjected to both mental and psychological torture, forced to take injections and brought to the brink of suicide by the prison staff.

"Myself and everyone else were tortured on a daily basis," Hicks said. "That ranges from typical physical beatings to a whole range of psychological ploys. There was medical experimentation that was very scary to be subjected to."

The staff at Guantanamo forced inmates to take pills and injections, and they would face beatings if they resisted, Hicks said. The prisoners were never informed as to the nature of the drugs they were made to take.

Hicks said that being white and Australian gave him a privileged position in the prison, allowing him to avoid some of the physical abuse that went on.

"Being white and, more importantly, English being my first language, that allowed me to communicate with the guards and probably talk my way out of being beaten and tortured more – this is the guards, so it's separate to interrogation – versus some of the Arabs and Afghans, who couldn't speak English at all."

He described the guards as having "no patience" and when they were frustrated they would beat the inmates until their "bones were broken."

"Once the detainee was beaten and removed, they'd have to use hoses and scrubbing brushes to remove the blood from the cement floor," Hicks said.

After almost five years of imprisonment in Guantanamo, Hicks said he had lost the ability "to fight, to have hope, to believe that justice would prevail" and was contemplating suicide.

"Guantanamo is sort of this black hole where supposedly no laws apply except what they decide."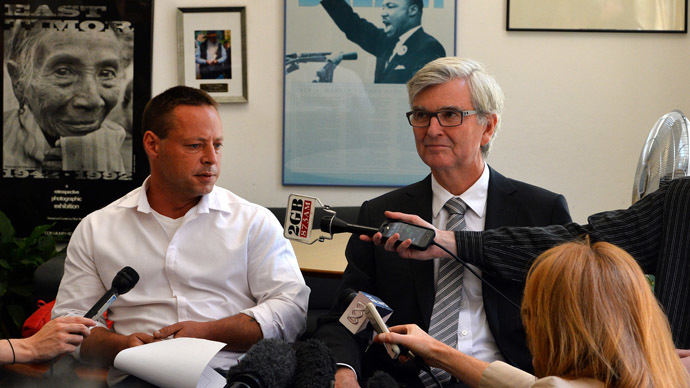 Setting the record straight

When he was finally offered the chance to leave the prison it came with a price. Australian Prime Minister John Howard sent a message to Hicks' lawyer, saying that "under no circumstances" would the Australian government allow him to return without entering into some sort of plea.

Hicks was subsequently given the opportunity to sign an Alford Plea – a piece of US legislation that allows a defendant to plead guilty, but without admitting guilt to a particular crime. Upon agreeing to the plea, Hicks was told he would be freed in 60 days.

"I ended up taking that deal, knowing that I could get out in 60 days and back to Australia and deal with it," said Hicks, who still maintains his innocence.

When he returned to Australia he was put into isolation in an Adelaide prison at had a gagging order placed on him, forbidding him from talk about his experience in Guantanamo.   

Six years on, however, Hicks is moving to set the record straight and clear his name of the charges that he claims are legally invalid.

Hicks referred to the case of Salim Hamdan, a Yemeni national also charged with providing material support to terrorists who had the charges overturned after an appeal in a federal court. The court ruled in his favor on the basis that the 2006 Military Commissions Act, under which the charges were made, was flawed and unconstitutional.

"Material support for terrorism is not a recognized crime and if it was, it was applied retroactively anyway," said Hicks, describing his appeal as a "formality."

The Northern Alliance in Afghanistan captured David Hicks in 2001 and handed him over to American jurisdiction for a $1,000 bounty. Hicks, a convert to Islam, admitted that he had trained in a paramilitary camp during his time in Afghanistan, but maintains he never participated in terrorist activities.