Guantanamo guards accused of stealing inmates' private legal documents
Published time: 22 Oct, 2013 21:40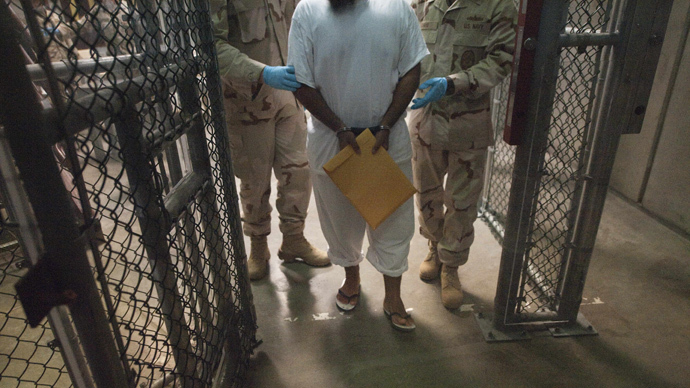 US prison guards have been accused of seizing the private legal documents of five prisoners, who have been charged with plotting the September 11th attacks, according to their defense lawyers.
In a pre-trial hearing on Tuesday, their attorneys accused the prison guards of taking the papers from the detainee's cells, despite a court order which prohibits the seizure of confidential attorney-client documents.
"From time to time at least, it's just been ignored," said David Nevin, an attorney for Khalid Sheikh Mohammed, who has confessed to being the mastermind behind the hijacked planes in the 9/11 attack.
Another attorney said it would endanger the client attorney relationship.
"If this continues it makes a sham of the entire proceeding, I'm a little annoyed, they keep penetrating the privilege and it's going to bring this attorney-client relationship to halt. If it's written and stamped they should not be seizing it. Period," said Cheryl Boreman, who wore a black Muslim style hijab and who is representing Walid Bin Attash, a Yemini who is accused of training some of the 9/11 attackers at a camp in Afghanistan.
The hearing took place in the Guantanamo Bay Naval Base and was seen by Reuters via a monitor link at the Fort Meade army base in Maryland. The five defendants in question sat quietly talking to their interpreters and lawyers.
Army Colonel James Pohl, who is the judge in the case, said that he was concerned about the allegations.

"I am concerned that if I issued an order and it is not being followed, additional measures might be needed to force guards to comply. I want to get this resolved," he said.
The chief prosecutor Brigadier General Mark Martins said that the guards might have been confused about the restrictions in place as they regularly searched for contraband. 
Not only where certain documents seized, but they were also translated.
In July, a federal judge wrote a sharply worded rebuke to the practice of genital pat-downs of Guantanamo detainees, prior to them meeting with attorneys. The procedure was derided as an obstruction to prisoners' legal counsel. 
US District Judge Royce Lamberth said that the search policy flagrantly disregarded "the need for a light touch on religious and cultural matters."
"The guard will search the detainee's groin area 'by placing the guard's hand as a wedge between the scrotum and thigh … and using flat hand to press against the groin to detect anything foreign attached to the body,' " Lamberth said, quoting the new policy. "The guard uses a flat hand to frisk the detainee's buttocks to ensure no contraband is hidden there."
While no contraband had been found during such pat downs, each prisoner was searched in that manner up to four times prior to meeting with an attorney, said Lamberth.
"The motivation for the searches is not to enhance security, but to deter counsel access," wrote Lamberth.