Islands in a sea of debt: Greece considers lease of isles to curb crisis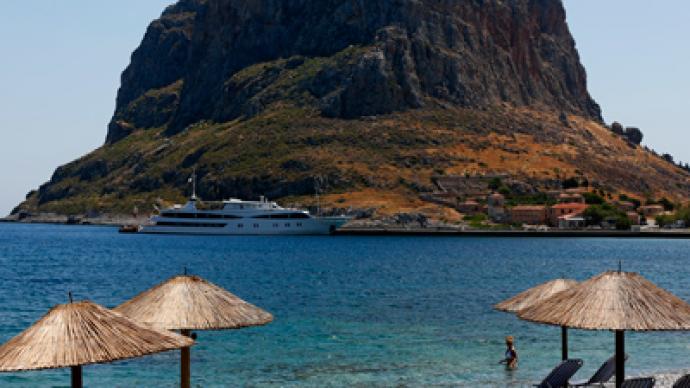 Greek Prime Minister Antonis Samaras has admitted there could be an unprecedented deal to lease islands in order to obtain crisis management funds. In an interview to France's Le Monde, he said national security is the only precondition for the deal.
­Samaras' interview stirred excitement in the media, when initially the plans were thought to include selling uninhabited territories in the Mediterranean. Since 2010, speculation has been ripe that such a move may be needed.But for the Greek government the idea appears to remain unquestionably taboo. Friday, the authorities stated that selling tiny rocky isles is out of question and that Samaras's words were misinterpreted. The press release quoted the PM's actual words as:"In the event of a threat to the national security the isles can be used as a commercial capacity. This does not mean a wholesale deal, but they can be turned into a worthwhile, though not yet used, territory, into capital which can bring profit corresponding to its cost."  Samaras was vague about any conditions, but a source in the government told Itar-Tass news agency that such territories could be used for fisheries, as sites of solar or wind power stations, or water distilling facilities. Tourism is also being considered as an option.The Greek Prime Minister is currently in talks with German Chancellor Angela Merkel and French President François Hollande on the economic future of his country. The Greek PM has admitted that Greece's exit from eurozone – "Grexit" as EU officials call it – is a depressing, but increasingly possible prospect.Samaras admitted that in case of an exit from the euro, the hardships that would fall on the country would far exceed its capabilities, and Europe would suffer a recoil effect too.Samaras specified that "A 'Grexit', as it is called, would be devastating for Greece and detrimental to Europe. This would result in a further reduction of 70 per cent of our standard of living – it has already decreased by 35 per cent – by the combined action of a devaluation and inflation. No society can address this impact. No democracy there could survive," he acknowledged. "Social upheaval could become very contagious in other European countries. Add, of course, the reaction of financial markets to be anticipating the release of other European countries, causing a domino effect," the Greek PM warned the EU, referring to its most vulnerable members: Portugal, Spain and Italy.It is expected that during the talks Samaras prepares to ask for more time rather than more money from Merkel and Hollande in order to implement radical budget cuts and give citizens more time to adapt to the new realities.In fact the European leaders do not exactly believe the promises of the relatively new Greek leader who came to office in November 2011. Before winning the election, Samaras was an opposition leader who was consistently opposing the austerity measures.