Greek police fire tear gas on anti-austerity protesters (PHOTOS)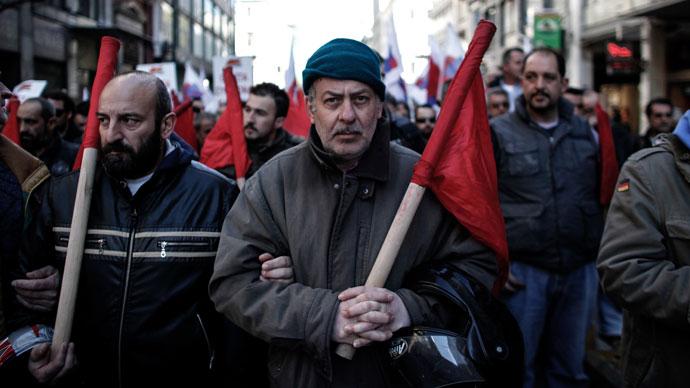 Greek police fired tear gas on a group of anti-austerity protesters in Athens as thousands of demonstrators marched toward Parliament. A group of hooded youths were throwing rocks and bottles, Reuters reported.
Around 35,000 Greeks took part in protest rallies in Athens, on a call from the nation's two biggest labor unions, which represent some 2.5 million Greeks.
Another 15,000 demonstrators marched in the city of Thessaloniki, according to local authorities. A TV crew car was torched during protests and demonstrators smashed the front windows of pawn shops.

In Athens, demonstrators made their way to the Parliament building while beating drums, blowing whistles, and chanting "Robbers, robbers!"
Most businesses and public sector activities grinded to a halt as a result of the 24-hour general strike protesting against austerity measures and the country's ongoing economic woes.

Public schools and tax offices were closed, and critical services like hospitals and public transport worked with skeleton crews on duty.
Domestic flights were interrupted while ferries and long-distance trains were kept idle. Court cases were stalled as lawyers walked off the job. Private doctors and dentists also joined the strike.

"We are fighting for measures to halt unemployment, for jobs for all, to protect our democratic and workers' rights," the General Confederation of Greek Workers, the country's largest private-sector union, said in a statement.

"Today's strike is a new effort to get rid of the bailout deal and those who take advantage of the people and bring only misery," said Ilias Iliopoulos, secretary general of the public sector union Civil Servants' Confederation, the second of the organizers.

The protesters oppose the six-year-long recession, which forced consecutive governments to cut public spending and impose austerity to win international credit. The debt-crippled country has a record high 27 per cent unemployment with few clear prospects for recovery.

Athens received more than US$200 billion in bailouts from the EU and the IMF, with the latest tranche secured in December averting national bankruptcy.
And as Greece continues to struggle to pay back overwhelming debt, Chatzistefanou says the country has yet another issue to deal with.
"When you have huge debt like the one that [Greece] is facing, you start losing levels of democracy and I'm afraid that has happened. One year ago, we had a non-elected prime minister and after the election we have a government that promised to re-negotiate the debt but never did. They only invest in riot police and unconstitutional bills that impose more austerity in the country. I'm afraid we're becoming a third world country, not only as far as the economy is concerned, but also as far as democracy is concerned," he said.
Greece has seen dozens of major marches and hundreds of smaller protest events over the years, but they mostly failed to prevent further austerity measures. Still, as the date of the strike action approached, the government announced on Monday that it would not fire almost 1,900 civil servants as it had pledged to foreign lenders it would.
The strike comes a day after a Greek journalists' walkout, which left the visit of French President Hollande mostly uncovered by local media.
Greece's unemployment rate is expected to reach 30 per cent this year, according to a study by a government funded research agency published last week. By the end of the year, the Greek economy is expected to have shrunk by 25 per cent since 2008.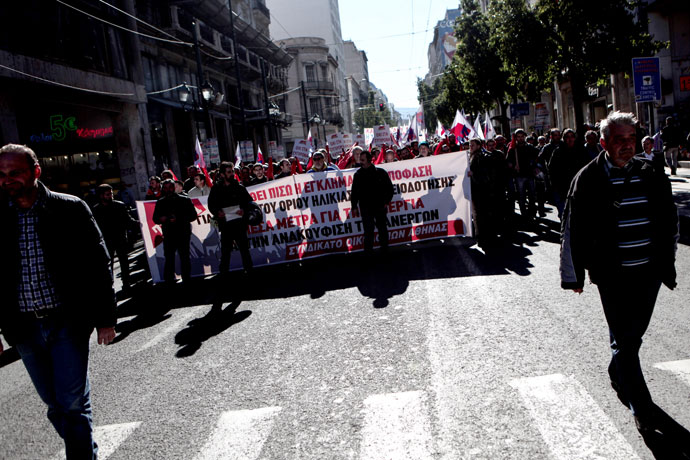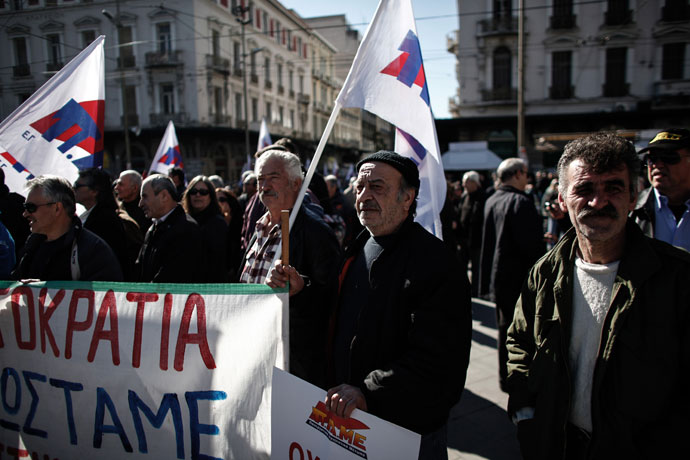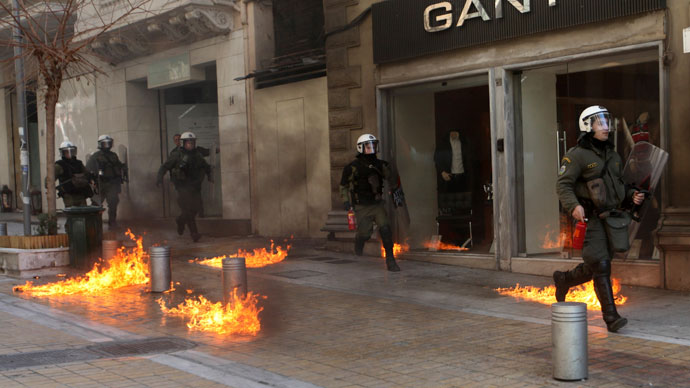 You can share this story on social media: