Greece welcomes Hollande with 'news blackout'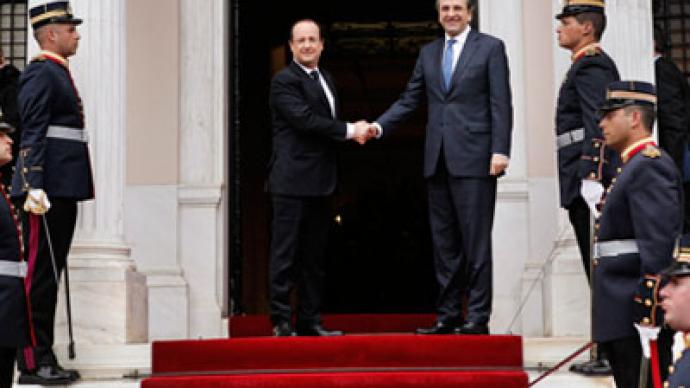 Greek media have gone on a 24-hour strike on Tuesday just as French President Francois Hollande pays a visit to the debt-riddled country. The move paves the way for a bigger austerity protest, a general strike set for Wednesday.
Journalists are among those Greeks protesting the austerity measures, growing unemployment and reducing wages that are gripping the country. TV and radio stations, newspapers, and even news websites are participating in the stoppage, reporting no news on Tuesday.Journalists from state media are taking part in what Government spokesman Simos Kedikoglou called a "news blackout" during Francois Hollande's six-hour visit to Greece, even though a court order called such a move illegal. State broadcaster NET said it would briefly cover Hollande's arrival.The French leader came to Athens with a "message of confidence and backing," his office says. He is to meet Greek Prime Minister Antonis Samaras, President Carolos Papoulias and the head of the Greek socialist party, Evangelos Venizelos, as well as head of some 40 leading Greek companies.Paris said Hollande's visit would be different from the October trip by another European leader, German Chancellor Angela Merkel. She was opposed by some 30,000 protesters, who saw Greece's main creditor as the cause of the strict austerity policies of the Greek government.Wednesday's general strike may draw similar crowds after being called by two main Greek labor unions. In Athens transport services will be available to people traveling to protest rallies. Hospital will be operating on skeleton staff, while many other state services will be closed completely.Greek journalists have taken part in a number of protests over the five years since 2009, when the current crisis started. Their previous major strike was in October 2012 and also preceded a more massive strike organized by trade unions in other industries.The media in the country have seen an estimated 3,000 jobs lost over the last three years and a general decline in wages of between 10 and 20 per cent. They are also increasingly under fire from different parts of the society.Just last week five journalists from major outlets were targeted by bombers, who threw Molotov cocktails at their homes. The coordinated attack is believed to be aimed at terrorizing media workers and affecting their news coverage amid the economic hardships.At the same time Greek journalists report rising pressure from the government, with allegations of censorship voiced by some. They cite examples of 'indefinitely' suspending two TV hosts from the national broadcaster ERT in October 2012 and the prosecution of a newspaper editor over his publishing of a list of high-profile Greek holders of accounts in Swiss banks.
You can share this story on social media: