Man trampled as hundreds of desperate Greeks scuffle for food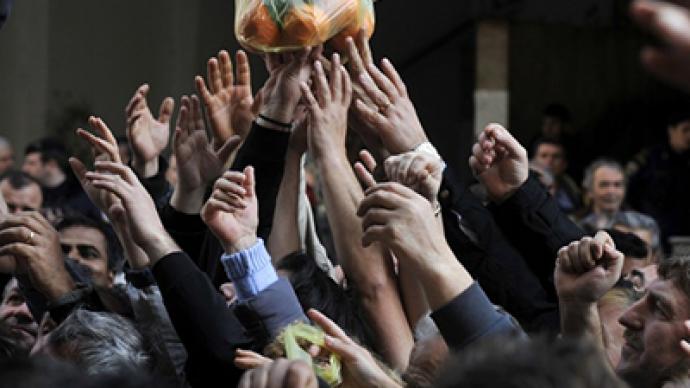 A fruit and vegetable handout in Greece led to one man being trampled on Wednesday, calling attention to the desperate conditions in the crisis-hit country. Some 55 tons of produce was given away by farmers who were protesting high production costs.
The person was injured when he was pushed by a crowd trying to grab the goods and fell and hit his head. The chaos was sparked when food stalls ran out of fruits and vegetables, prompting dozens of people to rush to a nearby truck. It was an "every man for himself" situation as the Greeks shoved their way to the front of the truck, competing for the food that was left. The 55 tons of food was completely gone in under two hours.A Reuters employee at the scene was hit on the head with cauliflower heads as he attempted to photograph the situation.
"These images make me angry. Angry for a proud people who have no food to eat, who can't afford to keep warm, who can't make ends meet," Kostas Barkas, a lawmaker from the leftist Syriza party, told Reuters.Other Greek lawmakers said the situation showed images "of people on the brink of despair" and the sense of "sadness for a proud people who have ended up like this." It's a reality that many Greek citizens find hard to comprehend."It's difficult. I never imagined that I would end up here," 65-year-old Panagiota Petropoulos said."I can't afford anything, not even at the fruit market. Everything is expensive, prices of everything are going up while our income is going down and there are no jobs," she continued.
Greece, which is currently in its sixth year of recession, is experiencing record high unemployment rates. Citizens have been forced to endure wage and pension cuts to satisfy European Union and International Monetary Fund demands.The handout was an attempt by farmers to persuade the government to give them a 50 per cent price reduction on diesel-powered farm equipment, abolish the obligatory declaration for cultivation and cut Value Added Tax from 23 per cent to 6 per cent on their products and agricultural machinery and equipment. Strikes continue to take place in various sectors, as workers protest the government's austerity planOn Wednesday, Greece's ruling coalition forced striking seamen to return to work after a six-day action that suspended ferry services to dozens of Greek Islands. The strike led to food and medical shortages. But when one strike ends, others continue.Farmers throughout the country are in their ninth day of demonstrations, staging roadblocks with their tractors on highways across Greece on Wednesday. Journalists working for state broadcasters went into a third day of strikes on Wednesday, protesting against the government's policies regulating the sector. The strike is scheduled to continue until Thursday. Various Greek Unions have held a wave of strikes over the past three years to protest the harsh austerity measures taken to secure international rescue loans.
You can share this story on social media: