Greek jobless rate double that of Eurozone: Over 60% of young workers unemployed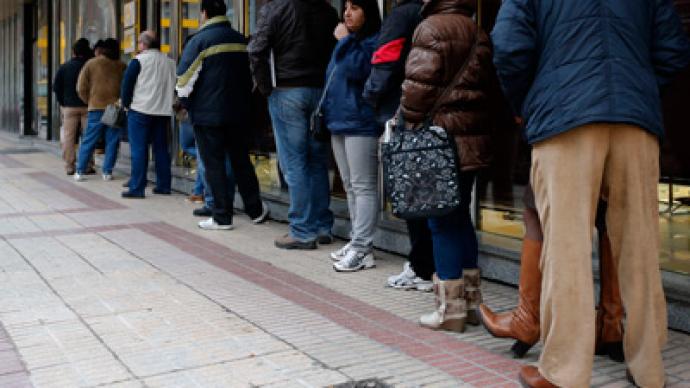 Tensions are running high in Greece as the country's workers suffer from unemployment rates that are double the rest of the eurozone's. More than 60 percent of Greece's young workers are unemployed, according to new data.
The information, released by the Hellenic Statistical Authority, revealed that the country's unemployment rate jumped from 26.6 percent last October to 27 percent in November. Other Eurozone nations hovered at an average unemployment rate of 11.7 percent in November.Greece's unemployment numbers are around double what they were in the beginning of 2010. That comes as a result of more than 300,000 Greeks losing their jobs between November 2011 and November 2012. Young workers are suffering the most – the unemployment rate for those aged 15 to 24 sits at a whopping 61.7 percent. The 25 to 34 age bracket takes second place, with 36.2 percent unemployment. In the months between November 2011 and November 2012, a reported 323,808 people lost their jobs – an astounding 887 people per day. "This is starting to become a humanitarian crisis – something that no one expected to see in the European Union," former Greek MP Eva Kaili told RT. Greece is currently under strict austerity measures demanded by the EU and the International Monetary Fund in exchange for huge bailout loans. The effects have been widespread among workers throughout the entire country. "We have 250,000 people every day trying to get to the church to find food. We're talking about young people that cant find a job in Greece, that are trying to leave the country. We're talking about people that don't have access to primary health services," Kaili said. But the Greek Finance Ministry has claimed there is a silver lining in its future budget plans, and that the country's economy is expected to grow in 2014 – for the first time since the country entered a recession six years ago.  However, experts aren't so quick to believe the government's economic forecast. "The eurozone is headed for deeper, more intense, and much less retractable trouble in 2013. There is no foreseeable way for the region to recover as it exists today in its current form," economic expert Margaret Bogenrief from ACM Partners told RT last month. Greece is due another 5.6 billion euros in aid next month – but Kaili says the large sum won't go very far. "We have to pay what we owe. The money that comes in goes right back out," she said.In January, pensioners and civil servants saw their wages cut, on top of growing taxes and utility prices, triggering yet another wave of protests in the crisis-hit nation.
You can share this story on social media: