Wannabe firefighter turns fire starter as rejected Greek starts 14 blazes– paper
Published time: 28 Aug, 2012 01:34
Edited time: 28 Aug, 2012 05:34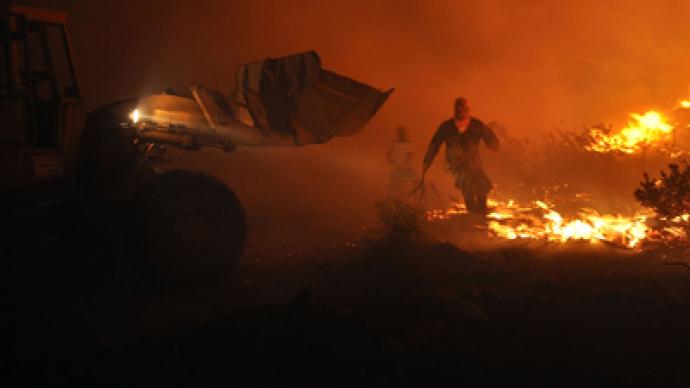 A man who wanted to become a firefighter allegedly turned to arson to express his anger after not being hired. He is believed to have started fires on a Greek island already devastated by a massive blaze.
­The 24-year old man was arrested by members of the fire service's arson investigation unit, based on the Greek island of Chios. He confessed to deliberately starting 14 fires in the north of the island, Greek daily Ekathimerini reports.

The suspected arsonist's father is believed to be a firefighter himself.

A massive wildfire that ravaged the Aegean island last week destroyed 15,000 hectares (37,000 acres) of forests and arable land, as well as hundreds of mastic trees. The detained would-be firefighter said he was not responsible for that fire.

Chios is economically dependent on the export of mastic, which is also known as Arabic gum and used in food, medicine and cosmetics. Producers stand to lose up to three million euros ($3.75 million) a year, as it would take several years before replanted mastic trees are ripe enough to be used.

"Imagine that a farmer who produces mastic will now lose this economic benefit … for the next 8 years," Local Giannis Stoupakis noted, having recently opened a factory to produce mastic-flavored alcohol drinks.

Greece, already struggling to overcome its economic troubles, has been hit by a wave of wildfires, with sweltering heat conditions and strong winds fueling blazes both on the mainland and on the country's numerous islands.

Greek authorities detained a total of 250 people on charges of arson this year. Most of the arrested individuals are accused of having started the fires by accident, with only a few being deemed deliberate arsonists.

One of the latest arrests includes a 60-year old man, who is believed to have been responsible for last week's blaze on Zakynthos, an island in the Ionian Sea.