Germany slams US for 'Stasi methods' ahead of Obama visit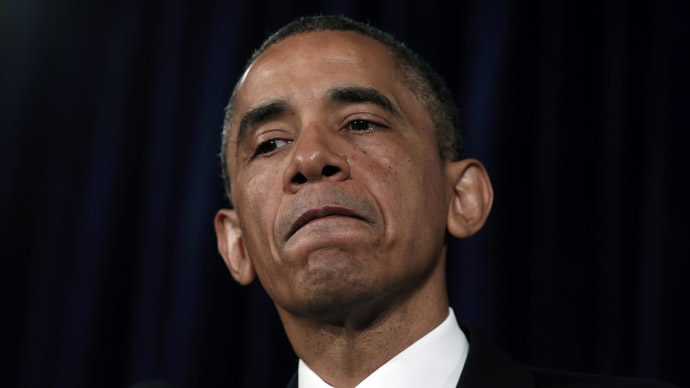 Germans are expressing outrage as details of a US internet spy program - revealed by a former CIA employee-turned-whistleblower – are prompting comparisons with that of former communist East Germany's Ministry for State Security.
Unfortunately for Obama's upcoming trip to Berlin, it was revealed that Germany ranks as the most-spied-on EU country by the US, a map of secret surveillance activities by the National Security Agency (NSA) shows.

German ministers are expressing their outrage over America's sweeping intelligence-gathering leviathan, with one parliamentarian comparing US spying methods to that of the communist East Germany's much-dreaded Ministry for State Security (Stasi).

Washington is using "American-style Stasi methods," said Markus Ferber, a member of Chancellor Angela Merkel's Bavarian sister party and member of the European Parliament.

"I thought this era had ended when the DDR fell," he said, using the German acronym for the disposed German Democratic Republic.

Clearly, enthusiasm for the American leader's upcoming visit will be much more tempered than it was in 2008 when 200,000 people packed around the Victory Column in central Berlin to hear Obama speak of a world that would be dramatically different from that of his hawkish Republican predecessor, George W. Bush.

Merkel will question Obama about the NSA program when he visits in Berlin on June 18, government spokesman Steffen Seibert told reporters on Monday. Some political analysts fear the issue will dampen a visit that was intended to commemorate US-German relations on the 50th anniversary of John F. Kennedy's famous "Ich bin ein Berliner" speech.


Bush excesses, Obama digresses

One year into his second term, Barack Obama seems powerless to roll back the military and security apparatus bolted down by the Bush administration in the 'War on Terror.'

One consequence of this failure of the Obama administration to reign in Bush-era excesses emerged last week when former National Security Agency employee Edward Snowden, 29, blew the whistle on a top-secret intelligence system named Prism, which collects data on individuals directly from the servers of the largest US telecommunications companies.  

According to documents leaked to the Washington Post and Guardian newspapers, PRISM gave US intelligence agencies access to emails, internet chats and photographs from companies like Google, Facebook, Twitter, Verizon and Skype.

Justice Minister Sabine Leutheusser-Schnarrenberger said leaked reports that US intelligence services are able to track virtually all forms of Internet communication demanded an explanation.

"The more a society monitors, controls and observes its citizens, the less free it is," she wrote in a guest editorial for Spiegel Online on Tuesday. "The suspicion of excessive surveillance of communication is so alarming that it cannot be ignored. For that reason, openness and clarification by the US administration itself is paramount at this point." 
She has sent a letter to her "US counterpart Eric Holder" seeking clarification on the legal foundation of the PRISM program.  

"I've observed with great concern reports about a possible program," Leutheusser-Schnarrenberger said in a statement emailed by her ministry in Berlin. "This may constitute massive access to telecommunications data without permission on a huge scale."

All of the facts must be put on the table, the minister added.

Obama has defended the intelligence-gathering system as a "modest encroachment" that Americans should be willing to accept on behalf of security.

"You can't have 100 per cent security and also then have 100 per cent privacy and zero inconvenience," he said. "We're going to have to make some choices as a society. There are trade-offs involved."

The United States, however, is not legally restricted from eavesdropping on the communications of foreigners, meaning in theory that Washington could be listening to and collecting the private communications of individuals anywhere in the world.

Peter Schaar, Germany's federal data protection commissioner, said the leaked intelligence was grounds for "massive concern" in Europe.

"The problem is that we Europeans are not protected from what appears to be a very comprehensive surveillance program," he told the Handelsblatt newspaper. "Neither European nor German rules apply here, and American laws only protect Americans."

Meanwhile, German opposition parties hope to gain from the scandal, especially with parliamentary elections approaching in September, and Merkel looking to win a third term.

"This looks to me like it could become one of the biggest data privacy scandals ever," Greens leader Renate Kuenast told Reuters.

Obama is scheduled to hold talks and a news conference with Merkel on Wednesday followed by a speech in front of the Brandenburg Gate, the 18th triumphal arch that is one of Germany's most recognizable landmarks.

You can share this story on social media: