Germany most-spied-on EU country by US - leaked NSA report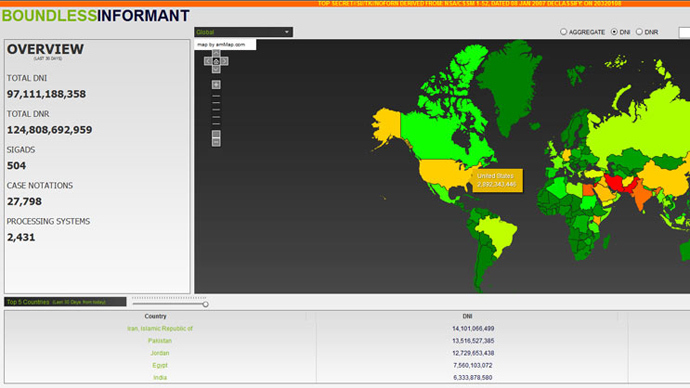 Germany appears to be the most snooped on EU country by the US, a map of secret surveillance activities by the National Security Agency (NSA) shows. EU officials are to question their US counterparts on data snooping in Europe.
The color-coded map of secret surveillance activities by the NSA ranks countries according to how much surveillance they are currently undergoing - green for the least and red for the most watched.
While all EU member states boast variant shades of green, Germany stands out, color-coded orange.

The source behind the revelation of the top-secret NSA surveillance program, already referred to as one of the most significant intelligence leaks in US history, was uncovered late last week. 29-year-old Snowden asked The Guardian to reveal his identity, having fled to Hong Kong to escape retaliation by the US authorities.

"The NSA has built an infrastructure that allows it to intercept almost everything. With this capability, the vast majority of human communications are automatically ingested without targeting," he told The Guardian.

"I, sitting at my desk, certainly had the authority to wire-tap anyone … even if you are not doing anything wrong, you are being watched and recorded," he added.

The 'Boundless Informant' documents show NSA collecting up to 3 billion pieces of intelligence from US computer networks over a 30-day period ending in March 2013, according to The Guardian. The tool reportedly allows users to select a country on a map, view the metadata volume and select details about the collections against this or that state.


Iran is on top of the surveillance list, with more than 14 billion data reports in March, while Pakistan came in a close second at 13.5 billion reports. Jordan, a close US ally, as well as Egypt and India are also near the top, according to the data.
Germany's Interior Ministry had already been in contact with US officials to find out whether there had been any infringement of German citizens' privacy lately. Chancellor Angela Merkel is due to raise the issue of the NSA's eavesdropping on Germany with President Barack Obama, who said the monitoring program is a means of defense against terrorism.

"We need to step back here and say clearly: mass surveillance is not what we want," Reuters quoted Jan Philipp Albrecht, a German Green lawmaker in charge of overhauling the European Union's outdated data protection laws as saying.

Asked whether the NSA's surveillance scheme is already violating the rights of EU citizens, German activist and theater director Angela Richter tells RT that seems to be the case.

"As far as I can see from the Snowden leak, it seems to be already happening, even if not officially. I'm very curious if our governments knew already. I cannot imagine that surveillance on this broad a scale could happen without anyone knowing [in the EU]," says Richter.

As to why Germany appears to be the most closely surveilled country within Europe, Richter believes that may go beyond counterterrorism.

"I can only speculate. First of all, Germany is geographically situated between East and West. Historically it was always the case. On the other hand, Germany is strong economically within Europe. There may be economic reasons, not only protection from terrorists," says Richter.

"The question is, is that ok? Even if 99 per cent of Americans say it is ok for that to happen, it is still wrong," she adds.

EU rattled over US' PRISM
The EU Parliament is considering a substantial overhaul of its almost 20-year-old data protection rules, which when were established without taking the internet into account.

"It is time we grasped the nettle here and put our minds to ending the program," Reuters quoted Martin Ehrenhauser, an Austrian independent member of the European Parliament, who was referring to the SWIFT and the airline data agreements.

Both data-sharing deals between the European Union and the United States were signed after the 9/11 attacks in 2001. The European Parliament members sought at the time to limit the amount of data that could be taken from European databases.

European officials attempted to negotiate an agreement that would limit the US access to all types of sensitive European data, however, not much progress was yielded.

Senior EU officials are expected to discuss the impact of NSA's programs on the privacy of EU citizens during a trans-Atlantic ministerial meeting in Dublin on Thursday.

"This case shows that a clear legal framework for the protection of personal data is not a luxury or constraint, but a fundamental right," European Commissioner for Justice Viviane Reding said.

The European Parliament said it is always firm on data protection within the EU, as well as when negotiating with third countries, including the US.

"It would be unacceptable and would need swift action from the EU if indeed the US National Security Agency were processing European data without permission," Guy Verhofstadt of the parliament's liberal bloc said.

Reding said she would raise concerns in a meeting with US Attorney General Eric Holder on Friday.

"This case shows why a clear legal framework for the protection of personal data is not a luxury but a necessity," she tweeted.

Health Commissioner Tonio Borg said the EU wants a "clear commitment" from the US to respect data-protection rights.

"The [Justice] Commission is asking for clear commitments from the United States as to the respect of the fundamental right of EU citizens to data protection," he said in a statement.

The EU wants clarity on whether the US authorized bulk transfers of data, or only data on specific individuals.

The NSA's tradition of surveying international communities reportedly goes back to the Cold War era, when the agency used monitoring sites in Germany, Britain and other countries to spy on communications within the Soviet Union and its East European allies.

UK Foreign Secretary William Hague has meanwhile canceled his trip to Washington to speak about The Guardian's latest NSA report.

He assured parliament that accusations that the UK government allegedly used information provided by the Americans to circumvent laws were "baseless."

"Our agencies practice and uphold UK law at all times," he stated, "even when dealing with information from outside the UK."

In an interview with the British newspaper, successful NSA consultant Snowden leaked top-secret documents that revealed the existence of the US National Security Agency's extensive internet spying program PRISM, which records digital communications and allows for real-time online surveillance of US citizens. PRISM gives US intelligence agencies direct access to files stored on the servers of major internet companies, including Google and Facebook, to identify and target potential terror suspects.

Meanwhile, the Swiss Foreign Ministry has requested the US Embassy in Bern to clarify the role of Edward Snowden while he served as a diplomat in Geneva.

"Switzerland expects members of diplomatic missions in Bern and members of permanent missions in Geneva to respect the laws and regulations of the state where they reside," it said in an emailed statement.

Snowden, who leaked classified information to The Guardian about the program, said he decided to make public his findings related to PRISM after US intelligence reportedly attempted to recruit a Swiss banker to obtain secret information.

You can share this story on social media: