Hundreds evacuated after floods break dam in Russia's flood-hit Far East
Nearly 300 houses with over 900 inhabitants have been inundated in a suburb of the Far Eastern Russian city of Komsomolsk-on-Amur after a nearby dam was destroyed in rising floods.
Up to 700 people have been evacuated so far, local Emergencies Ministry reported. The Mendeleyev settlement, where the dam is located, is home to 4,500 people; about a thousand of them are said to be in immediate danger.

Those living on ground and second floors of apartment buildings have been evacuated, while inhabitants of apartments on higher floors are currently refusing to leave, Emergency Situations First Deputy Minister, Sergey Shlyakov, told RIA news. "Water and food supplies have been organized for them," he added.

Hot water has been cut off in the Mendeleyev settlement, while drinking water is currently being brought up by tankers. 19 rescue workers have been on duty overnight with six boats, as well as Russia's Ministry of Emergency Situations' Mi-8 helicopter.

Up to 16,000 people have already been evacuated and 98,800 people have been affected by the ongoing flooding of the Amur River. Deputy Prime Minister Yury Trutnev said on Wednesday that Russia's federal government is providing $360 million in aid to parts of the Far East that have been devastated by the raging flash floods.
The most difficult situation is near Komsomolsk-on-Amur, in the flood-hit Khabarovsk territory, where the level of the Amur River is growing by 13-15 centimeters a day, and has already reached 8.71 meters. According to Trutnev, a further 36,000 people might need to be evacuated from the area if floodwaters continue to rise.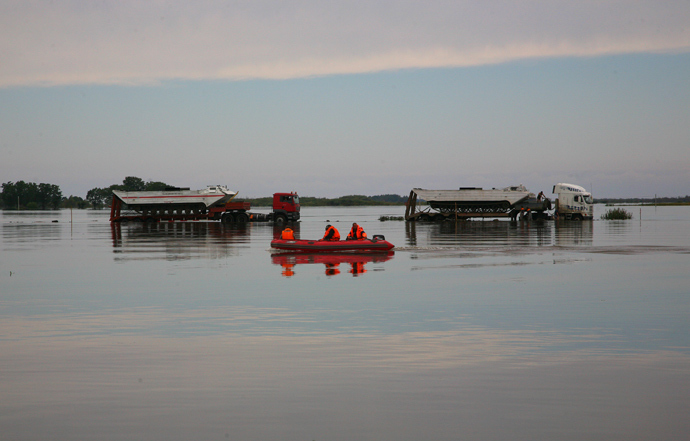 In total there are about 45,000 people taking part in rescue work in the flood-hit areas.

According to local meteorologists, the waters of the Amur River near the flood-hit city of Khabarovsk appeared to be on a slow decline having dropped by three centimeters over the past 24 hours. On Friday the water's decline reached a level of 798 centimeters.

Earlier this week, the water level in the troubled river peaked over 810 centimeters, surpassing the highest record of 642 centimeters (registered in 1897) by almost two meters.

Over 60 residential sites have been flooded across the Khabarovsk Territory, including the cities of Khabarovsk and Komsomolsk-on-Amur. Some 2,300 residential buildings have been inundated, over 660 of them in Khabarovsk.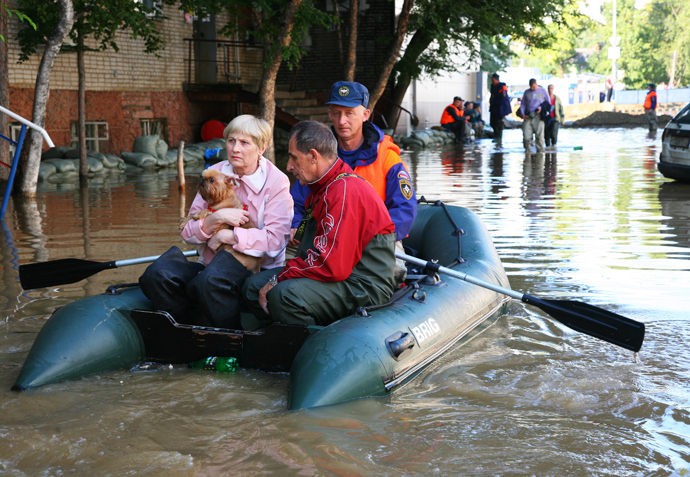 More than 3,800 people have been evacuated from the affected areas.

Vladimir Putin, who recently visited the flood-hit areas, said that the Far East was encountering an "unprecedented disaster."

"When I was flying over it in a helicopter it looked like an open sea. The only thing that brings you back down to earth is rooftops showing from under the water. This does make you realize you're dealing with a disaster. The scope of that disaster was just enormous..." Putin said earlier this week during an interview with AP and Channel 1.

The Russian President has apologized to the local flood-affected people, who are currently suffering, with their homes inundated, possessions lost, and life in danger.

"You can't just leave people so that they, in their own words, painted the walls themselves and ate thin broth," Putin stated, pledging to put everything in order. Some local residents had earlier told Putin they were being poorly-fed, while the local officials simply ignored their needs.


You can share this story on social media: