Faulty wheelchair blamed for disabled man's fiery death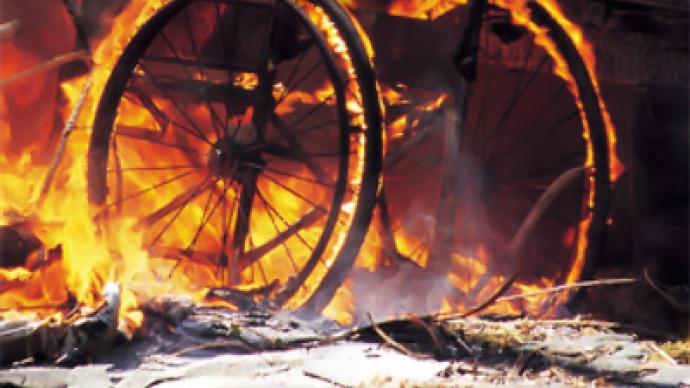 A disabled Russian man has been burned alive as his electric wheelchair caught fire after a short circuit in the chair's battery compartment.
The Moscow region-based company that produced the wheelchair claims that this was the first incident ever and has promised to conduct an internal investigation.
News about the accident was reported by the Russian website Life.ru on Wednesday. According to the site, the victim, whose name was given as Aleksei Rubanov, was paralyzed after a motorcycle accident that took place 20 years ago. The man lived alone in a private house in the southern Russian city of Stavropol and was a keen gardener despite his health condition. Two years ago, Rubanov received a new electric wheelchair as a present from his family.
At about noon on Tuesday, Rubanov's neighbors heard screams from his house and saw smoke clouds. As they broke the gate to get into the yard, they saw Rubanov already in flames. The man lived long enough to be taken to the hospital by an ambulance, but with burns to most of his body he had virtually no chance of survival.
Police immediately started an investigation into the incident and soon established that it had happened because of a shortcut in the wheelchair's battery compartment. The company that had supplied the wheelchair (based in the suburban town of Korolyov near Moscow) said it would conduct an investigation to help to prevent future incidents. However, a representative of the local social service was quoted as saying that the warranty period for the wheelchair had expired long before the fire, and thus no one could be held responsible for the disabled man's death.
You can share this story on social media: