Fast and furious: highway hijack Hollywood-style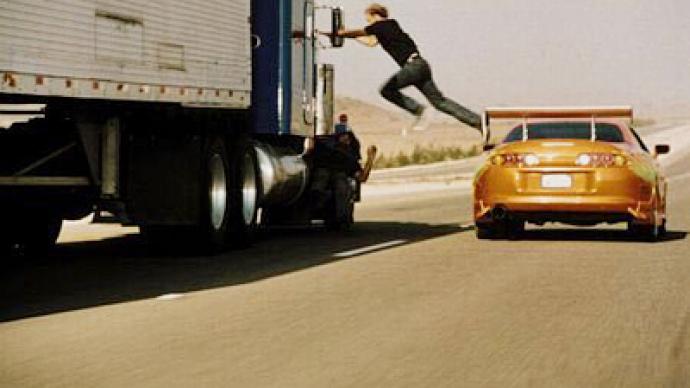 A group of robbers arrested in Central Russia for taking cargo from trucks while on the move, said they were inspired by similar antics in the Hollywood flick "The Fast and the Furious" starring Vin Diesel.
The gang used a Volkswagen Passat to tail their target, after which one of them jumped from their vehicle's hood to the truck to reach the cargo. He then threw the goods over to his accomplices and returned the same way he came, police report.The criminal stuntmen planned their hijackings for the early hours of the morning and managed to empty two or three trucks a session. Their record was the theft of 22 crates of mobile phones, which they took in 14 minutes.Police encountered the gang in action on one occasion, but the powerful engine helped the culprits escape. They were finally caught dumping the stolen goods at a shop. The three gang members had filled a warehouse with their loot, near their rented house in the Rostov region. Police had trouble finding room for all the DVDs, foodstuffs, consumer electronics and even insecticide which they had seized. The gang stole an estimated $160,000 worth of goods.Their car turned out to be a special one too. Not only was its engine tinkered with for more power, but its cowl was reinforced so as not to bend under weight.The gang members are awaiting sentencing and face up to ten years in prison.
You can share this story on social media: