At least 53 dead as Taliban's audacious courthouse raid ends in bloody standoff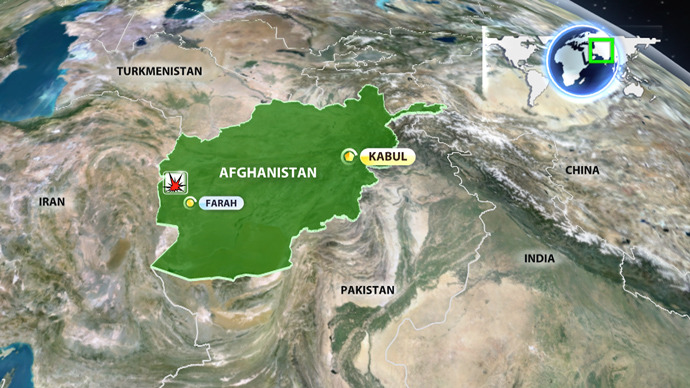 Dozens of civilians have been killed in Afghanistan after Taliban fighters staged a co-ordinated assault on a courthouse in the drug-smuggling hotbed of Farah. This is the deadliest terrorist attack in the country since 2011.
At 9 a.m. on Wednesday, two suicide-belt-wearing bombers, dressed as regular army soldiers, set off explosives in an army truck in front of a government compound in the city located on Afghanistan's western border with Iran. Other militants then rushed through the gates and occupied a courthouse, reported by local officials to be "packed" with people.
Seven insurgents – who were armed with rifles, explosives and grenade-launchers, holed themselves up in the building, with the court attendees held as hostages. As the building was encircled by security forces, a stand-off lasting more than six hours began. At some point, the militants shot their hostages.
Eventually, the Afghan forces stormed the building, killing all of the Taliban fighters.
Police officials said the final death toll included the 9 militants, ten security officers, and 34 civilians. More than a hundred were injured by the initial explosion and during the firefight.
"When I reached the street I saw that all shops and houses around the court house were destroyed," Jalil Khan, 47, a civil servant at the nearby customs office, told the New York Times.

"I saw men, women and some children lying on the ground, bleeding or burned. Some of them didn't know where they were or what had happened to them."
Local police chief Afgha Noor Kemtoz told Associated Press that the militants executed the attack to free fellow Taliban members, who were due to stand trial at the courthouse.
"Definitely the plan was to free the prisoners with this attack but, thank God, they did not succeed. All the prisoners are accounted for," he said.
But Taliban claimed that the long-planned attack led to the release of 10 of their associates.
"We sent several warnings to those in the Farah government, telling them not to work there," Taliban spokesman Qari Yousuf Ahmadi said in a message to the media.
The militant Islamist organization has tried to gain a foothold in the province that lies on Afghanistan's lucrative drug-export route, as the government has tried to squeeze it in other areas.
The UN mission in the country estimated that militants are responsible for more than 80 percent of all civilian deaths in the country, which in 2012 numbered over 2,700.
After 12 years in the country, NATO will withdraw the vast majority of its troops this year, leaving the country under the sole control of embattled President Hamid Karzai.

You can share this story on social media: