'Not freedom but treason': Erdogan slams Turkish media over whistleblowing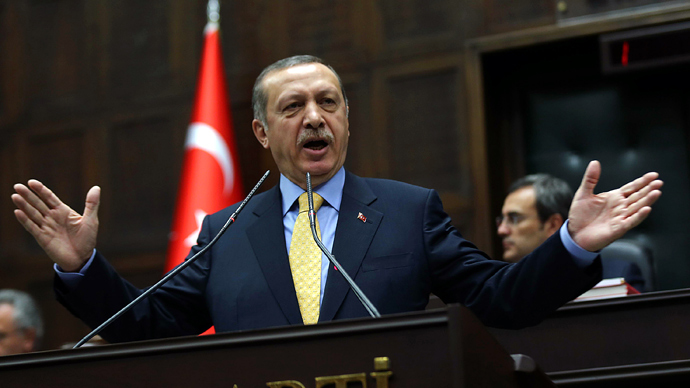 Turkish PM has equated whistleblowing to "treason" when he slammed a Turkish daily for leaking state documents that included information on government's profiling of citizens and surveillance on activities of religious groups.
"I now see that some media groups are hand-in-hand," PM Recep Tayyip Erdogan said in the town of Tekirdag as cited by UPI. "Exposing state secrets is not freedom but absolutely treason to the country and homeland."

Erdogan was speaking in reference to the leaked documents that Taraf daily published late November and earlier this month. The Turkish constitution, Erdogan reminded, strictly prohibits whistleblowing saying no one has a right to leak state secrets.

"I'm addressing those who accuse the government of profiling people. Who has leaked this intelligence information to your men, your supporters?" Erdogan asked, abruptly changing the subject.

The Turkish leader's remarks come a day after authorities launched a probe looking into a case of Mehmet Baransu a journalist at Taraf. The filings of complaints were done by Erdogan's office and two intelligence agencies, the MGK and MİT.

The investigation is looking at charges of "obtaining documents regarding state security," "political or military spying," "exposing documents regarding the state's security or political good," and "revealing forbidden information."

The first record Taraf published was a leaked document from Turkey's National Security Council (MGK), of a secret plot against Hizmet, a movement founded by Islamic scholar Fethullah Gulen.

The 2004 document, endorsed by a number of politicians – including Erdogan and the foreign and justice ministers at the time – asked the government to monitor Gulen's domestic and foreign activities, including private schools, student housing and foundations.

Taraf also published a series of documents leaked by journalist Mehmet Baransu implicating the PM and the National Intelligence Organization (MİT) of profiling and blacklisting citizens in connection to religious groups. The publication also said the authorities continued to track the groups between 2011 and 2013, despite government's claims it had stopped such practices back in 2010.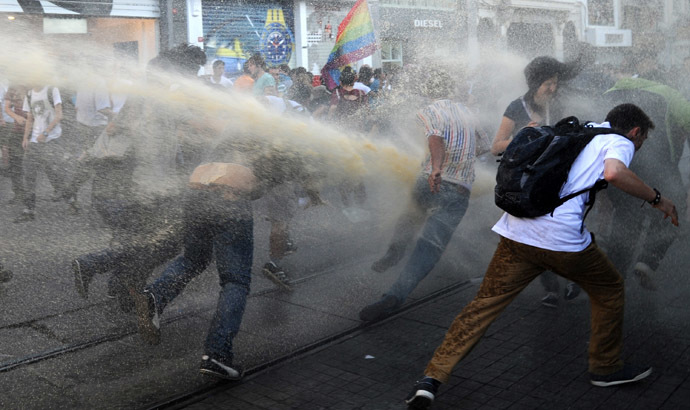 Earlier in the week Omer Dincer, member of the Justice and Development (AK) Party who was Prime Ministry undersecretary in 2004, said that the government never implemented the proposal outlined in the leaked document, UPI reports. The politician said that then government of Mesut Yilmaz set up a council to monitor religious groups but the council was dissolved in 2010.

'Prison for journalists'
With Turkish government's continuing crackdown on journalists, the Reporters Without Borders called Turkey the "world's biggest prison for journalists" last year.

"With a total of 72 media personnel currently detained, of whom at least 42 journalists and four media assistants are being held in connection with their media work, Turkey is now the world's biggest prison for journalists – a sad paradox for a country that portrays itself a regional democratic model," Reporters Without Borders said. The independent organization also wrote that "critical and investigative journalism is often criminalized."

Ever since the police stormed Istanbul's Gezi Park on 15 June, Reporters Without Borders have exressed deep concern about the government's treatment of the press. The advocacy group stated that reporters "are accused of acting at the behest of 'external actors' or in collusion with 'terrorist organizations' with the aim of destabilizing the country."

Another freedom of speech advocacy group the Committee to Protect Journalists has sent a letter to Erdogan outlining concerns over "jailing of journalists in retaliation for their work," "heated anti-press rhetoric coming from the top echelons of power," and an attempt to censor news coverage.

The Committee also noted government's "official threats to restrict Turkey's social media" and the crackdown on journalists "in retaliation for their independent or pro-opposition coverage of June's anti-government rallies."
You can share this story on social media: