At least 53 killed, over 200 wounded as Egypt protests turn violent
Egyptian celebrations of the 40th anniversary of the Arab-Israeli War were marred by a fresh wave of violence, with at least 53 people killed and over 200 wounded in clashes between police and supporters of ousted President Mohammed Morsi.
RT's Arabic team also got caught in the turmoil in Cairo, with producer Ahmad al-Ashqar getting injured in the right leg in Giza's Dokki district.
At least 53 people were killed and 268 others injured across Egypt, AFP cited senior health ministry official Ahmed al-Ansari as saying. At least 45 individuals were killed in Cairo and another five south of the capital, according to the official. 
Deputy Interior Minister General Sayed Shafiq told local media that the security situation is now "under control" in Cairo.

At least 423 people were arrested in Cairo and Giza during clashes on Sunday, the country's Interior Ministry said. According to the Ministry's Facebook page, 180 people were detained in Giza, and another 243 people were apprehended in downtown Cairo.
In Cairo, Egyptian police fired tear gas to disperse pro-Morsi demonstrators as they marched towards Tahrir Square, where pro-army supporters gathered to celebrate the 1973 war anniversary. The tear gas and birdshots reportedly sent protesters running towards western Giza's Dokki neighborhood. Police chased demonstrators and beat them up before detaining them, a witness told AFP. 
There were reports of heavy gunfire, but they could not be confirmed. Ahram Online quoted politician and former presidential candidate Bothaina Kamel telling Aswat Masriya that she was physically assaulted and that pro-Morsi demonstrators smashed her car windows as she drove through Dokki on Sunday.

The military wanted to protect the celebrations of the anniversary, which are now in full swing at Tahrir Square, according to RT's Cairo-based correspondent Bel Trew. Egypt's interim President Adly Mansour called on people to come to the streets to celebrate what he called "a national day of pride." Trew stated that Mansour did not want to see Muslim Brotherhood supporters causing trouble during the festivities. She said there were many people in the streets "with quite severe injuries in addition to being beaten heavily by people who were mingling with the security forces in support of the military."
Clashes also erupted in the Garden City district in the center of the capital, where police fired tear gas and chased protesters along the Nile Corniche, forcing some demonstrators to jump into the water. Police boats were sent to retrieve protesters.   

Unrest was reported in other parts of Cairo and in several other cities, including Alexandria, Aswan, and Suez. Earlier on Sunday, a pro-Morsi supporter was killed and at least two people were injured after clashes with police erupted during a protest march in the town of Delga, located 300 kilometers south of the capital. 
At Tahrir Street in Giza, sporadic heavy gunfire coming from two directions. Chaos

— Bel Trew - بل ترو (@Beltrew) October 6, 2013
Amid fears of new violence in the divided nation, security forces and armored vehicles were heavily deployed in Egyptian cities as events were held to commemorate the October 1973 war, known as the Yom Kippur War in Israel. The Interior Ministry warned earlier that it would "firmly confront" any violence during the celebrations.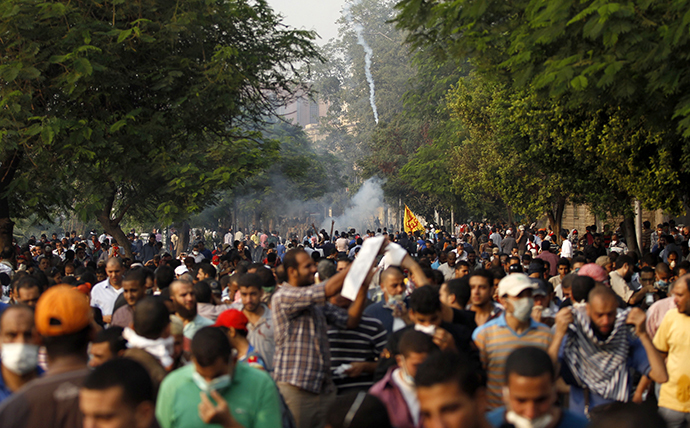 Egypt has remained dangerously divided after the military overthrow of democratically elected Morsi in July, following his turbulent year in office. The coup was followed by a harsh crackdown on Morsi's Muslim Brotherhood movement, along with arrests of its leaders and other officials.

The former Egyptian leader is facing trial for inciting the murders of protesters outside the Presidential Palace in Cairo in December 2012, when at least 12 people were killed in clashes. Egypt's new rulers also accuse Morsi of conspiring with Palestinian Islamist movement Hamas and plotting to attack police stations during the revolution two years ago which overthrew his predecessor, Hosni Mubarak. 
Egypt is in a very volatile state, but the government's reconciliation with the Muslim Brotherhood could become a solution to the crisis and help stop the violence, award-winning Middle East journalist Hugh Miles told RT.
"It is possible that Egypt could turn around in a short space of time. Probably not [with] this current government, because it really is just the army ruling the country at the moment. But in a few months, when elections have taken place, there will be a new government and one would expect that they will be motivated to reconcile," Miles told RT. The journalist went on to say that "if they are democratically elected, they will be under local pressure inside Egypt, and also [under] international pressure to reconcile with the Brotherhood."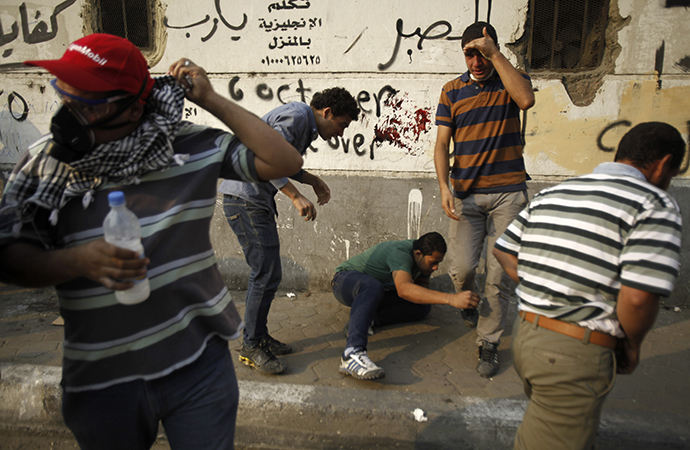 You can share this story on social media: