Egyptian helicopters assault Sinai Islamist bases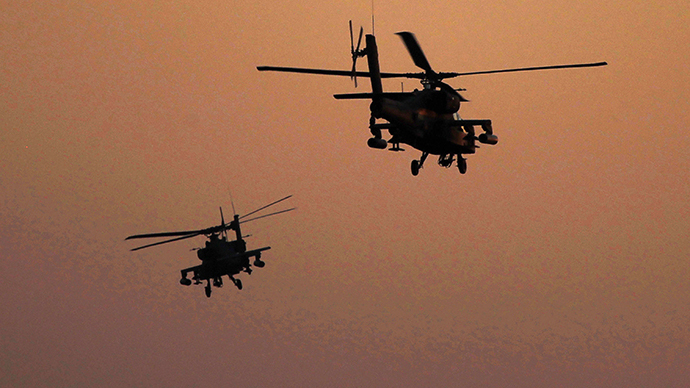 Egyptian Air Force has launched a sudden assault against militant groups in the north of the Sinai Peninsula. The operation has been initiated in response to unceasing attacks by Islamist extremists against Egyptian military personnel in the area.
A couple of Apache gunships fired at least 13 missiles at extremists' bases, reportedly killing and injuring dozens of militants. The missiles have hit three targets in two locations, in Muqataa and Touma, near the border with the Gaza Strip, where militants got together for meetings.
The assault had been preceded by an arrest of two Salafi members of Mujahideen Shura Council group, with links to Al-Qaeda. The twosome suspected of firing rockets at Israel – the latest attack was staged on August 13 - was detained by Egyptian Army commandoes.
Security forces in Egypt have a long list of wanted individuals currently concentrating along the border with Israel and the Gaza Strip, as well as in mountainous areas in the center of the Sinai Peninsula.
Egyptian army stresses that the operation against militant continues and the airstrike became the largest-ever aerial assault against terrorists on the Sinai Peninsula, Interfax reported.
Egyptian authorities have announced plans to introduce an 11km-long isolation area alongside the Gaza border, Israel's Maariv newspaper reported. In this 500-meter-wide strip all buildings, except for one mosque, trees and terrain accidents, such as big rocks, will be totally eliminated, all secret tunnels between Egypt and Gaza will be blasted. The army has already destroyed at least 343 'smuggler' tunnels along with no less than 10 private houses that were used to conceal tunnel entrances.
The Hamas authorities in Gaza have acknowledged destruction of "nearly all" tunnels connecting Gaza and Egypt.
The sea route from Gaza to Egypt is also under tight control of the Egyptian Navy.
After Islamist President Mohamed Morsi was overthrown and the Muslim Brotherhood was removed from power, Islamists turned the Sinai Peninsula into their 'rear base', attacking military and civilian installations practically daily.