UK seeking loophole in extradition agreement with Ecuador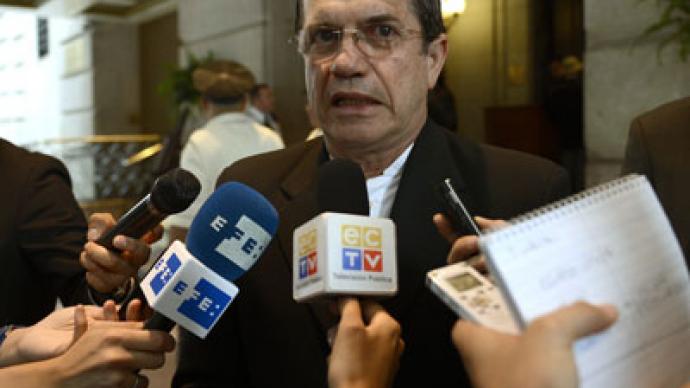 Britain recognizes that due to Julian Assange's asylum status with Ecuador, he can not be extradited to Sweden, Ecuador's FM Ricardo Patino said. Nevertheless, high-level talks will continue as the UK is determined to find diplomatic way to do so.
Patino held a meeting with UK Foreign Secretary William Hague on the sidelines of the UN General Assembly.Summarizing the results of the talks, Patino said that he received written confirmation from London that it recognizes the validity of its 1880 extradition treaty with Ecuador. According to Patino, this agreement states that in cases like Assange's, a person cannot be extradited to a third country.During the talks Patino reminded his counterpart that the WikiLeaks boss is under Ecuador's jurisdiction, and asserted his country's determination to protect him.Nevertheless, Britain has pledged to seek a diplomatic solution in order to find a way to extradite Assange. Both ministers agreed to hold another meeting to continue the discussion, but in the meantime Hague has asked Patino and the government of Ecuador to "study closely" the UK extradition law, which he said provides "extensive human rights safeguards.""The concept of 'diplomatic asylum,' while well-established in Latin America, did not feature in UK law," a UK Foreign Office spokesman said. "On the case of Mr. Julian Assange, the foreign secretary told Minister Patino that the UK was under an obligation to extradite Mr. Assange to Sweden."Nevertheless, following the talks, Patino posted on his Twitter that he was "confident that we will find a diplomatic solution to the case."Assange has been holed up in Ecuador's Embassy in London for more than three months. Despite being granted political asylum by the small South American nation, he still faces arrest the moment he leaves the ambassadorial premises.On Thursday, the WikiLeaks founder addressed the representatives of the United Nations' member countries, saying that neither the UK nor Sweden had so far guaranteed that he would not be extradited to the US, where both he and WikiLeaks have been officially declared "enemies of the state."
You can share this story on social media: