UK urges new round of Assange talks with Ecuador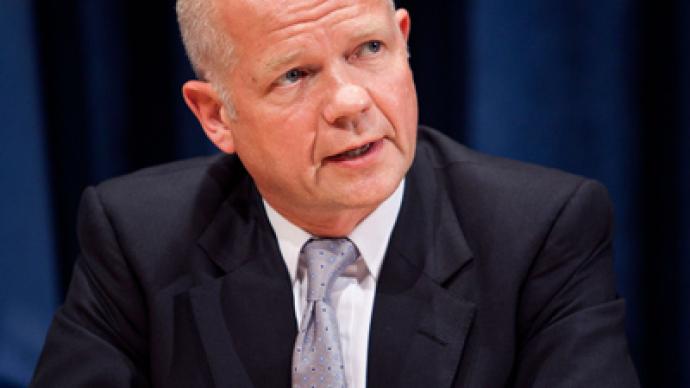 British Foreign Secretary William Hague has urged Ecuador to resume talks over the case of WikiLeaks founder Julian Assange "as early as possible," stressing that a diplomatic solution to the dispute, which has become a standoff, should be possible.
Assange, who is wanted for questioning in Sweden in relation to sexual assault allegations, has been holed up the Ecuadorian Embassy in London since June. Ecuador granted him political asylum on the grounds that there was a threat that he could be further extradited to the US to face charges, and even execution, over WikiLeaks' release of thousands of sensitive US documents.
However, the whistleblower cannot depart for Ecuador, as the UK said it will arrest him if he leaves the embassy, deporting him to Sweden.
"We believe that our two countries should be able to find a diplomatic solution," Hague said in a statement on Monday. "We have invited the government of Ecuador to resume, as early as possible, the discussions we have held on this matter to date."
Given concerns that Assange could face extradition from Sweden to the US, Hague said that Sweden would be obliged to seek Britain's consent before granting any extradition to a non-EU member.
"This means that the United Kingdom could only consent to Mr Assange's onward extradition from Sweden to a third country if satisfied that extradition would be compatible with his human rights, and that there was no prospect of a death sentence being imposed or carried out," he said.
The standoff between London and Quito reached its highest point when the UK threatened to storm the Ecuadorian Embassy in London to seize Assange, sparking a diplomatic scandal, outraging the Ecuadorian leadership and prompting emergency meetings of Latin American regional blocs.
Britian later withdrew its threats, easing tensions. On Monday, Hague once again reassured Ecuador that the UK has no intention of violating its diplomatic premises. "I have been consistently clear that we are not threatening the embassy of Ecuador," Hague said.
Last week, Assange told Ecuador's Gama television network that he expected the diplomatic impasse with the UK to be resolved in six months to a year.
Earlier, Ecuadorian President Rafael Correa said in an exclusive interview with RT that "once we granted asylum to Assange, he is under the protection of Ecuador, and we will do everything to make sure this protection is effective."